Orphée [Orpheus] ***** (1949, Jean Marais, François Périer, María Casares, Marie Déa) – Classic Movie Review 117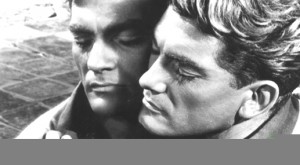 The French poet Jean Cocteau realises the full magic of the cinema in this 1949 masterpiece of the French avant garde, one of the most exquisite fantasies in the movies.
Set in present-day Paris, Orphée is a modern retelling of the ancient Orpheus and Euridice myth, in which Death (the muse-like, but chilling Maria Casarès), a black-gloved princess, receives coded orders over the radio and travels in a luxurious Rolls-Royce, driven by her chauffeur Heurtebise (François Périer).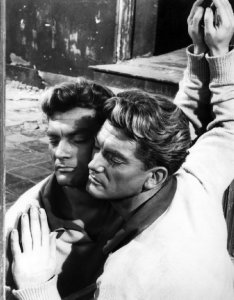 The incredibly dashing and handsome Jean Marais plays the poet Orphée, obsessed by radio messages from other worlds, who is rescued from a fight at St Germain by Death. These transmissions hold coded messages, rather like the BBC's transmissions to the French Resistance in the war.
Orphée falls in love with Death, and follows her through a mirror (in one of cinema's most magical and famous special effects, created with a vat of mercury) into the ruins of the underworld (shot in the bombed St Cyr Military Academy) in search of inspiration. He neglects his wife Eurydice (Marie Déa), who, this scorned, promptly turns to female friends, the Bacchantes, at an all-women dancing club, for comfort.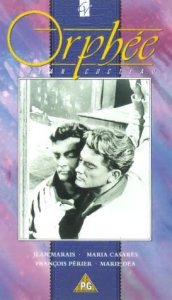 Death falls for Orphée, has her leather-clad motorcyclists run down Eurydice, but Orphée gets Heurtebise to lead him back into the underworld to recover her. There a Supreme Tribunal orders that he can take back Eurydice on condition that he would never look at her again.
Cocteau conjures up the purest expression of poetry in the cinema, with striking images and a darkly enigmatic story, which is both universal and highly personal, and finally tantalisingly inexplicable. He achieves memorable performances from his cast, but particularly from Marais and Casares, both of whom are wonderful, charismatic presences. Marais had been Cocteau's lover, but his new boyfriend, Edouard Dermithe, also appears, as Jacques Cegeste.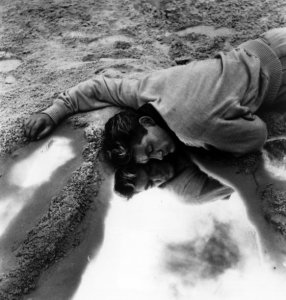 Nicolas Hayer's cinematography, Georges Auric's score and Jean d'Eaubonne's set designs are all remarkable, major contributions to Cocteau's success here.
The full version is 112 minutes but the dubbed US version as Orpheus runs only 95 minutes. Cocteau got the French Legion d'Honneur while making the film.
Cocteau revisited the material nine years later in Le Testament D'Orphée, a unique autobiographical essay in which he mixes his friends and obsessions to produce a statement on his art and life.
© Derek Winnert 2013 Classic Movie Review 117
Check out more reviews on http://derekwinnert.com/