One from the Heart **** (1981, Frederic Forrest, Teri Garr, Raul Julia, Nastassja Kinski) – Classic Movie Review 4727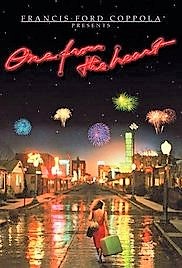 Frederic Forrest and Teri Garr star as lustful Hank and dreamy Frannie, a long-term couple who quarrel and find new dream partners in Leila and Ray (Kinski and Julia) one 4th of July night in an entirely reproduced Las Vegas, in co-writer/ director Francis Coppola's incredibly lavish and imaginative 1981 Broadway-style romantic fantasy musical. It is not unfortunately a great movie but it is admirable as a brilliant style object and technical achievement and remains entirely likeable and appealing.
One from the Heart is the extravagant movie that broke the bank at Coppola's Zoetrope Studios after being budgeted at $2 million but costing a fortune ($26 million and being a box office flop (it grossed only $900,000 in the US) and Coppola declared bankruptcy.
But production designer Dean Tavoularis's astounding Las Vegas set is worth every cent, while cinematographer Vittorio Storaro films in Technicolor and turns this into one of the most ravishing looking, neon-coated films ever. Despite the odd casting, the shortage of passion and lack of story, this is still one to take to the heart. In 2016, it has parallels with La La Land.
Tom Waits was Oscar nominated for his attractively exotic songs in his first film score. It is Rebecca De Mornay's film debut. Also in the cast are Lainie Kazan, Harry Dean Stanton, Luana Anders and Allen Garfield.
Though set in Las Vegas, it was shot on a sound stage plus one sequence on the Zoetrope back lot.
Armyan Bernstein co-writes and co-produces in his first film as a producer.
It was the first film shot at Zoetrope Studios and Coppola's only movie filmed there. He says he made his subsequent films – The Outsiders (1983), The Cotton Club (1984), The Godfather: Part III (1990), Jack (1996) and The Rainmaker (1997) – pay off the One from the Heart debts.
Coppola's first musical was Finian's Rainbow (1968).
© Derek Winnert 2016 Classic Movie Review 4727
Check out more reviews on http://derekwinnert.com