Once Upon a Time in Mexico – Classic Film Review 133
Guns blazing, the brilliant and amazingly resourceful hitman El Mariachi (Antonio Banderas) blasts everyone in his way of trying to protect Mexico's president. Robert Rodriguez's follow-up to El Mariachi and Desperado is a super-stylish and exciting action thriller.
Johnny Depp is brilliant as Sands, a corrupt and crazy CIA agent with a false (third) arm that helps him kill the likes of cheating sleaze ball Cheech Marin. Throw in a complex, sprawling yarn that involves heroine Salma Hayek, plus crazed bad guys Willem Dafoe and Mickey Rourke, and here's a sweeping Western with super action, amazing stunts, startling visual flair, and a great epic feel.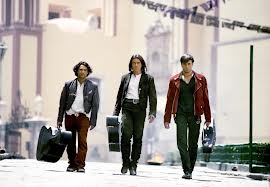 In a classy cast, Eva Mendes, Danny Trejo, Enrique Iglesias, Marco Leonardi, Rubén Blades, Gerardo Virgil and Pedro Armendâriz Jr are also in there somewhere.
It's even more fun than Depp's original Pirates of Caribbean. Putting an army of people out of work, Robert Rodriguez wrote, directed, shot, scored, designed, produced and edited the film. Talk about a brio tour-de-force! Wow!
The third part of Rodriguez's Mariachi trilogy after El Mariachi (1992) with Carlos Gallardo and Desperado (1995) also with Banderas.
(C) Derek Winnert 2013 Classic Film Review 133 derekwinnert.com