On the Town ***** (1949, Gene Kelly, Frank Sinatra, Ann Miller, Betty Garrett, Jules Munshin) – Classic Movie Review 352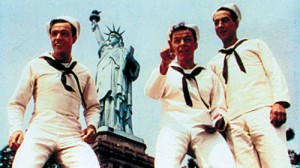 'Gee, Gabey, why d'ya wanna chase girls all the time?' – Chip (Frank Sinatra).
'I'll tell ya when your voice changes, junior.' – Gabey (Gene Kelly).
Based on the great vintage show by Leonard Bernstein, Betty Comden and Adolph Green, in which three sailors – Gabey, Chip and Ozzie – on 24-hour shore leave hit New York for a day of fun, this exhilarating MGM musical has few rivals. With catchy new songs by Roger Edens, Comden and Green, Gene Kelly's high-spirited 1949 entertainment is now firmly established as a much-loved movie classic and afternoon TV regular.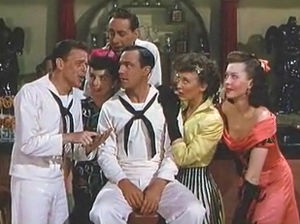 Gene Kelly stars as Gabey, who falls for a poster of Miss Turnstiles (Vera-Ellen) whom he later finds is being taught ballet by a bossy, mature woman, Madame Dilyovska (Florence Bates).
Meantime Frank Sinatra plays the shy Chip, who is chased by taxi driver Brunhilde Esterhazy (Betty Garrett), while Jules Munshin plays Ozzie, who gets to romance anthropologist Claire Huddesen (Ann Miller).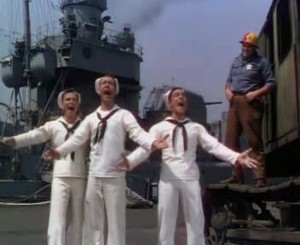 Overflowing with joy, zest and sheer life force, this stupendous show is one of Kelly's finest moments as dancer, actor, co-choreographer and co-director, capturing the flavour and feeling of New York as no one had done before – certainly not in a musical.
Among the movies many highlights of On the Town are Bernstein's 'New York, New York', the 'Miss Turnstiles Ballet', the Empire State building sequence, the 'A Day in New York Ballet', and Miller's brilliant singing and dancing on 'Prehistoric Man'.
Roger Edens and Lennie Hayton won the film's only Oscar for the best scoring of a musical.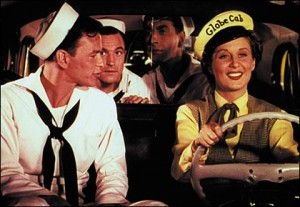 Kelly and his co-director and co-choreographer Stanley Donen had to fight the normally very studio-based MGM tooth and nail for the reality look of a week's filming on the streets of New York. Happily, they won.
Judy Holliday provides the voice of Daisy, the date of Sailor Simpkins (Dick Wessell). Other songs include 'On the Town', 'I'm Feeling Like I'm Not out of Bed', 'Come Up to My Place', 'Main Street', 'You're Awful' and 'Count on Me'.
Skinny Sinatra had to wear padding to fill out his uniform.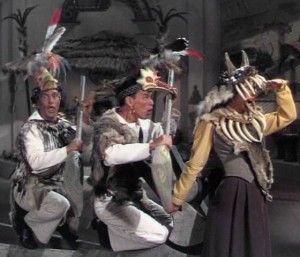 The film features only five pieces of music from the original score composed by Leonard Bernstein, and six new songs that were created by Edens, Comden and Green especially for the screen.
Typically, after MGM bought the film rights to the musical, Louis B Mayer and other studio executives then went to see stage show and disliked it, regretting their involvement in it, hence the dumping of Bernstein's songs and the stage director George Abbott.
The show is revived at the Regent's Park Open Air Theatre, London, in June and July 2017.
Kelly, Sinatra, Garrett and Munshin had just starred together in Take Me Out to the Ball Game.
http://derekwinnert.com/yankee-doodle-dandy-1942-james-cagney-joan-leslie-walter-huston-classic-movie-review-1589/
http://derekwinnert.com/meet-me-in-st-louis-1944-judy-garland-classic-film-review-1119/
http://derekwinnert.com/singin-in-the-rain-classic-film-review-6/
http://derekwinnert.com/kiss-me-kate-1953-kathryn-grayson-howard-keel-ann-miller-classic-film-review-1117/
http://derekwinnert.com/easter-parade-1948-fred-astaire-judy-garland-ann-miller-classic-film-review-1116/
© Derek Winnert 2013 Classic Movie Review 352
Check out more reviews on http://derekwinnert.com/