Odds Against Tomorrow **** (1959, Robert Ryan, Harry Belafonte, Ed Begley, Shelley Winters, Gloria Grahame) – Classic Movie Review 4993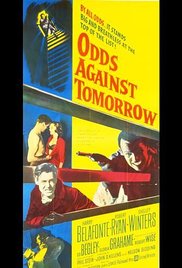 Producer-director Robert Wise's important and significant 1959 crime thriller is intense, violent and exciting, with a strongly conveyed, timely plea for tolerance in the racial sub-plot, concentrating on character studies of the three crooks involved in a big heist on a bank.
Ed Begley plays bent ex-cop Dave Burke, who plans a robbery, but he makes the mistake of hiring two very different debt-burdened men who share a more than uneasy relationship. One is an African American club singer, Johnny Ingram (Harry Belafonte), who has a weakness for the horses, and the other is Earle Slater (Robert Ryan), a bigoted white psycho.

There are excellent performances all round, especially from the three main stars, but Shelley Winters as Lorry and (briefly) Gloria Grahame as Helen make their mark too. Wise's gritty direction, the New York location filming and tough tone of Abraham Polonsky and Nelson Gidding's screenplay have kept it seeming fresh. John Lewis's unsettling jazz score and Joseph Brun's atmospheric black and white cinematography make notable extra contributions to the film's success, and its sheer class.
It is Wayne Rogers's first film, as a soldier. Also in the cast are Will Kuluva, Richard Bright, Lou Gallo, Kim Hamilton, Cicely Tyson, Zohra Lampert and Mae Barnes.
The blacklisted screen-writer Polonsky was originally credited as John O Killens, but his name was reinstated in 1996. The screenplay is based on the novel by William P McGivern.
© Derek Winnert 2017 Classic Movie Review 4993
Check out more reviews on http://derekwinnert.com