Ocean's Eleven **** (2001, George Clooney, Brad Pitt, Matt Damon, Julia Roberts, Bernie Mac, Andy Garcia, Carl Reiner, Elliott Gould, Don Cheadle) – Classic Movie Review 148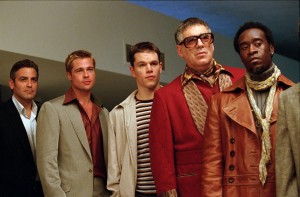 George Clooney inherits Frank Sinatra's old character of Danny Ocean in this lighthearted, zippy and entertaining 2001 remake of the 1960 comedy thriller about an 11-man gang's plot to pull off heists (now worth $160million) on the safes at three Las Vegas casinos at the same time by cutting the power momentarily. The Bellagio, the Mirage and the MGM Grand better watch out!
Other than that, there are no connexions between the two movies. This one emphasises the thriller plot and downgrades the throwaway daft humour and anti-women stance of the original. So this well-made, slick and glitzy movie is a lot sharper, wittier and more sophisticated fun as a result.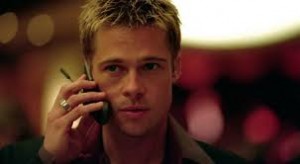 Oddly, for two such very different films, the virtues and failings are more or less the same. There's a lot of engaging high-spirited energy and laddish silliness, but the movie's overlong, sometimes too slackly paced, and the thin, frankly incredible plot seems to take a long time to kick in. Though, when it does, it's really exciting.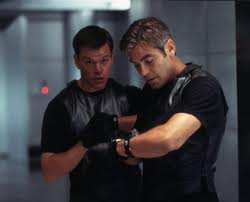 And the acting's variable. Clooney is just the man to make it larky and jokey, and he is exactly right, the quintessence of cool as cynical crooked mastermind Danny Ocean. Brad Pitt is excellent as Clooney's sidekick Rusty Ryan, Andy Garcia's very good value as Terry Benedict, the boss of all three casinos, Matt Damon's good fun as Linus Caldwell, a young buck into disguises, and Carl Reiner's most amusing as Saul Bloom, the old lag who feigns a heart attack.
But Julia Roberts is vacant and uninvolved as Clooney's ex-wife Tess, whom he wants to win back, an overacting Elliott Gould misjudges his turn as Reuben Tishkoff, the flamboyant one of the crooks, Bernie Mac's a bit average as Frank Catton and (as Basher Tarr) Don Cheadle is the world's worst cockney.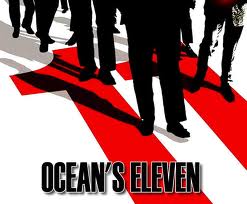 Director Steven Soderbergh is his own cinematographer, though credited as Peter Andrews, turning in a handsome, striking-looking, appropriately glossy movie, bursting at the seams with confidence.
Sequels: Ocean's 12 (2004) and Ocean's 13 (2007).
http://derekwinnert.com/oceans-12-classic-film-review-697/
http://derekwinnert.com/oceans-eleven-classic-film-review-149/
© Derek Winnert 2013 Classic Movie Review 148
Check out more reviews on http://derekwinnert.com