Objective, Burma! **** (1945, Errol Flynn, James Brown, William Prince) – Classic Movie Review 4754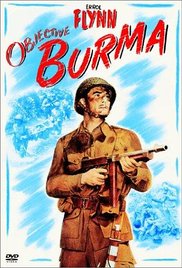 Director Raoul Walsh's 1945 war movie stars Errol Flynn as Captain Nelson, who leads his platoon of US army paratroopers in a World War Two attack on a Japanese base after parachuting into Japanese-occupied Burma. But then they find that they are trapped in the Burmese jungle.
One of the key films of the war, it is a fictional story, though it is loosely based on the six-month raid by Merrill's Marauders in the Burma Campaign during World War Two, and made by Warner Bros immediately after that raid. Fiction or not, the documentary-style realism of the film-making and incisive screenplay by Ranald MacDougall and Lester Cole convey a first-hand impression of battle.
At the movie's heart, Flynn gives a believable performance of considerable stature. James Wong Howe's cinematography and Walsh's direction are both wonderfully focused.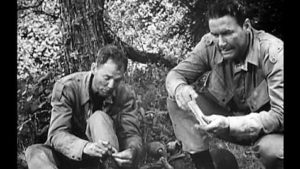 Ah, the power of film critics! It was withdrawn after a week in the UK when they complained of anti-British bias and was not shown again until 1952 with a pro-British introduction and an apology.
Not only critics were upset about the Americanisation of an almost entirely British, Indian and Commonwealth conflict. British Prime Minister Winston Churchill was infuriated and an editorial in The London Times thundered: 'It is essential both for the enemy and the Allies to understand how it came about that the war was won … nations should know and appreciate the efforts other countries than their own made to the common cause.'
In the meantime, Walsh directed a kind of remake in Distant Drums (1951) with Gary Cooper.
Alvah Bessie's story and Franz Waxman's music were Oscar-nominated.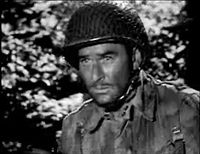 It runs a longish 142 minutes but there is also a cut version at 127 minutes and a colourised print.
Also in the cast are James Brown, William Prince, George Tobias, Henry Hull, Warner Anderson, John Alvin, Mark Stevens, Richard Erdman, Anthony Caruso, Hugh Beaumont, John Whitney, Joel Allen, George Tyne, Rodric Redwing, William Hudson, Lester Matthews, John Sheridan, Carlyle Blackwood Jr, Kit Carson, Neil Carter, Harlan Miller and Erville Anderson.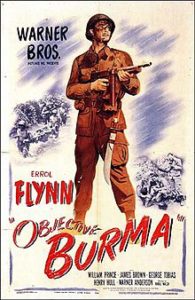 It was shot outside at the Los Angeles County Arboretum and Botanic Garden, California, as filming rose from 60 to over 100 days because of bad weather and script changes. It incorporates much combat footage filmed by US Army Signal Corps cameramen in China-Burma-India and in New Guinea.
© Derek Winnert 2016 Classic Movie Review 4754
Check out more reviews on http://derekwinnert.com