Nymphomaniac *** (2003, Charlotte Gainsbourg, Stellan Skarsgård, Stacy Martin, Shia LaBeouf, Christian Slater, Uma Thurman, Jamie Bell) – Movie Review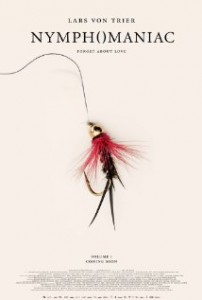 Danish writer-director Lars Von Trier's 2013 shocker seems very near to being like a porn film wrapped up as an art movie.
Charlotte Gainsbourg stars as Joe, a self-diagnosed nymphomaniac who recounts her erotic experiences to Seligman, the man who saves her after she's beaten up in an alleyway where he finds her. Stellan Skarsgård plays Seligman, so both the main roles in the movie are in very reliable hands. They're excellent, under difficult circumstances. So is Christian Slater, doing a very good job in a really serious role as Joe's father. I can't unfortunately say the same of Shia LaBoeuf, who seems out of his depth (and struggling with some weird accent) as Joe's first lover, boss and partner.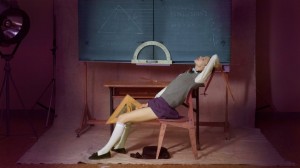 Nymphomaniac feels exploitative of its actors, but Gainsbourg says Von Trier is 'very respectful' and Skarsgård defends the film. 'Nymphomaniac is not porn. You can't wank to it. It's not controversial to me. But I understand that in Salt Lake City and Kabul this will be a controversial film.' So it's a movie for broad-minded intellectuals, then, or just the curious.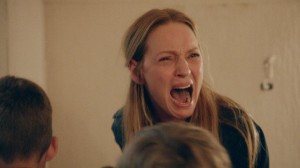 In the film, Gainsbourg's Joe recalls her teenage days, played by newcomer Stacy Martin in the flashbacks, as we learn of Joe's early discovery of her sexuality and her seemingly early conquests. It would be easy to feel a bit concerned about young Stacy Martin and what Von Trier asks her to do.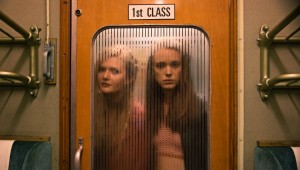 There's sex, perversion and genitalia everywhere, though Gainsbourg tells us she had a prosthetic vagina. It seems to go on for ever, spread out over four hours, in two two-hour movies, Volumes 1 and 2. If you have to pay twice, will you go back for Volume 2? Maybe you will, the excerpts of Volume 2 at the end of Volume 1 are certainly eye-popping. But you could tell this story in half the time, with half the detail, and it would still work just fine, and seem less exploitative. Jamie Bell's gratuitously sadistic encounters with a suddenly masochistic Joe don't half go on a long time, quite repetitively too. We got the point already.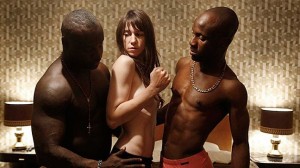 Nymphomaniac is all very provocative, raw, crude and alienating, most of it deliberately so. It's all about pain, hurt and damage and not the joy of sex, love or the pleasure of life. At least I think it is. Maybe it's not. It could be about female liberation and vagina power. It hardly has a sense of humour at all, except for a brief flash when a surprisingly funny Uma Thurman pops in as the very upset wife of one of Joe's lovers.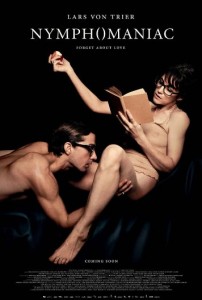 But this is exactly the film Von Trier wants to make. He's a very precise film-maker. He wants to thump you with a heavy-handed fistful of Danish gloom and doom. Isn't sex meant to be more fun than this, more jolly, and more erotic, and just a bit kinder? What an unpleasant view of the world and its inhabitants Von Trier has! Maybe he's right, though.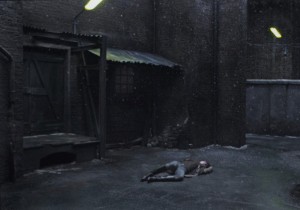 I feel Von Trier must have exposed himself in this movie, but if he has, it's mainly through the character of his fictional woman heroine, so anything at all obvious is carefully obscured. In various digressions, there are lots of arty references to music, literature, art and facts from even the real world. This is there just a smokescreen too, though it adds a posh layer to all the sex.
At the end of the day, it's a true original. There's no other film like it at all, I guess, apart maybe from Von Trier's own Antichrist (2009).
© Derek Winnert 2014 hhtp://derekwinnert.com