Now You See Me *** (2013, Jesse Eisenberg, Mark Ruffalo, Woody Harrelson, Isla Fisher, Dave Franco, Mélanie Laurent, Michael Caine, Morgan Freeman) – Movie Review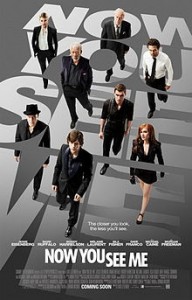 Mark Ruffalo and Mélanie Laurent star as FBI agent Dylan Rhodes and Interpol detective Alma Dray, who investigate a team of illusionists (Jesse Eisenberg, Woody Harrelson, Isla Fisher, Dave Franco). While performing in Las Vegas, the quartet declare that they will rob a bank and invite an audience member to be teleported to Paris in order to do it.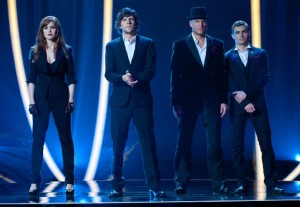 Director Louis Leterrier's slick and handsomely produced 2013 caper thriller offers flashy sleight of hand and occasionally a touch of real movie magic. The cast is first rate and the plot is ingenious, even if the ending is frustratingly unsatisfying and full of loose ends.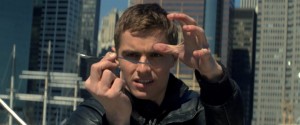 Still, it is mostly great fun and does the trick! Michael Caine and Morgan Freeman also star as Arthur Tressler and Thaddeus Bradley.
It has got a sequel up its sleeve – Now You See Me 2 (2016) – for a 2014 production and release on 10 June 2016 in the US and 4 July 2016 in the UK.
© Derek Winnert 2014 Movie Review.
Link to Derek Winnert's home page for more film reviews: http://derekwinnert.com/