Nothing But the Best **** (1964, Alan Bates, Denholm Elliott, Harry Andrews, Millicent Martin) – Classic Movie Review 5945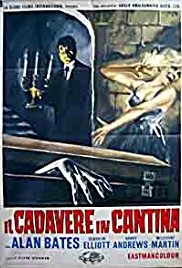 Director Clive Donner's amusing and deliciously cynical 1964 satirical dark comedy runs along the lines of How to Succeed in Business without Really Trying, though it is based on the short story The Best of Everything by Stanley Ellin.
The young Alan Bates enjoying one of his sharpest, career-best roles as the quintessential yuppie Jimmy Brewster, a greedy junior in a swish London estate agent and auctioneers' office, desperate to be upwardly mobile.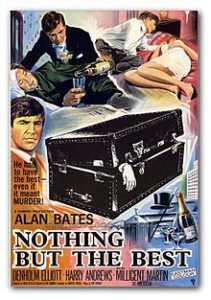 Denholm Elliott has fun too, stealing every scene he is in as the seedy shifty sponger and drunken layabout Charlie Prince, an ex-Etonian ne'er-do-well, who teaches Bates all he needs to know about class and the art of being a gentleman.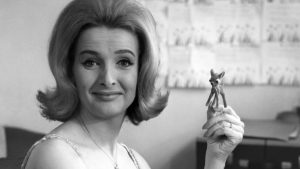 Millicent Martin is a delight as Jimmy's boss Mr Horton (Harry Andrews)'s available daughter Ann, whom he wants to catch.
Frederic Raphael's screenplay is rapier sharp. And this delicious Sixties highspot is nothing but the best.
Also in the cast are Pauline Delaney, Godfrey Quigley, Alison Leggatt, Nigel Stock, James Villiers, Avice Landone, Ernest Clark, William Rushton, Peter Madden, Robert Bruce, Howard Lang, Donald Pickering and Bernard Levin.
Nicolas Roeg films in attractive Eastmancolor and widescreen, it is produced by David Deutsch, scored by Ron Grainer and designed by Reece Pemberton.
 © Derek Winnert 2017 Classic Movie Review 5945
Check out more reviews on http://derekwinnert.com