Nostalgia [Nostalghia] **** (1983, Oleg Yankovsky, Domiziana Giordano, Erland Josephson) – Classic Movie Review 4211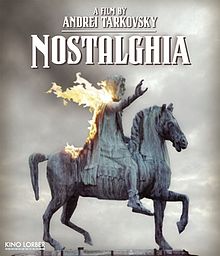 Director Andrei Tarkovsky's haunting and elusive 1983 Soviet-Italian experimental film stars Oleg Yankovsky, Domiziana Giordano and Erland Josephson.
Working in Italy in his first film outside Russia, with most of the dialogue in Italian, Tarkovsky co-writes the screenplay with legendary Italian screenwriter Tonino Guerra, and also works with the Roman cinematographer Giuseppe Lanci and the Roman art director and production designer Andrea Crisanti as well as the Italian producers.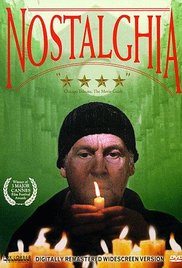 Yankovsky (the father in 1975's Mirror) plays the Russian writer and poet Andrei Gorchakov who travels to Italy to research the life of 18th-century Russian composer Pavel Sosnovsky, who lived there and committed suicide after his return to Russia.
Andrei, accompanied by his guide and translator Eugenia (Giordano), travels to a convent in the Tuscan countryside. In an ancient spa town, Andrei meets the mad man Domenico (Josephson), famous for trying to cross through the waters of a mineral pool with a lit candle.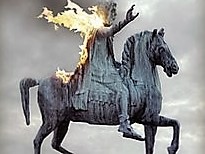 The poet's nostalgia for his homeland and longing for his wife, his feelings for Eugenia and Italy, and his simpatico feeling of friendship with Domenico become intertwined in a series of dreams.
Tarkovsky's film was supposed to be shot in Italy with the support of Mosfilm, but they inexplicably withdrew their support. So Tarkovsky used part of the budget provided by Italian State Television RAI and French company Gaumont to complete the film in Italy, cutting some Russian scenes from the script, and re-creating Russian locations for other scenes in Italy. Soviet authorities prevented the film from winning the Palme d'Or at the Cannes Film Festival, deciding Tarkovsky never again to work in the Soviet Union.
Scenes are shot in the countryside of Tuscany and northern Lazio, including the Abbey of San Galgano, the spas of Bagno Vignoni, the Orcia Valley, in the Province of Siena, the crypt of Abbadia San Salvatore on the Mount Amiata and the drowned church of Santa Maria in San Vittorino of Cittaducale, in the Province of Rieti.
The film features Verdi's Requiem, Beethoven's Ninth Symphony and Russian folk songs.
The film won the Prize of the Ecumenical Jury, the prize for Best Director (tied with Robert Bresson for L'Argent) and the FIPRESCI Prize at the 1983 Cannes Film Festival. Tarkovsky also shared a special prize called Grand Prix du Cinéma de Creation with Bresson. Tarkovsky was nominated for the Palme d'Or.
© Derek Winnert 2016 Classic Movie Review 4211
Check out more reviews on http://derekwinnert