Nosferatu, A Symphony of Horrors [Nosferatu, eine Symphonie des Grauens] ***** (1922, Max Schreck, Greta Schröder, Ruth Landshoff) – Classic Movie Review 237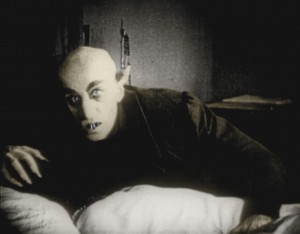 'You cannot escape destiny by running away.'
Director Friedrich Wilhelm Murnau's quintessential classic vampire film is a cheeky, unlicensed adaptation of Bram Stoker's 1897 novel Dracula. The great grand-daddy of all horror movies, it's silent movie gothic horror at its finest and most chillingly beautiful.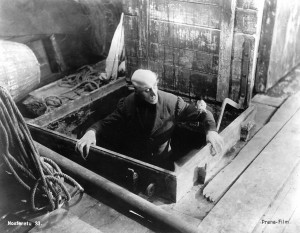 It's only by a miracle that it's survived because Stoker's widow won a lawsuit against the makers and the settlement included a deal that all known prints and negatives were destroyed. Luckily, five prints survived.
Changing Count Dracula to Count Orlok doesn't really change a thing, though, does it? You might as well change the name to Alucard!
And in some versions Hutter is actually Jonathan and his wife Nina, the character names from Stoker's book. So, character and story-wise, this is Dracula in everything but name, though the plot follows a markedly different course with many different details, and it's more or less the exactly same one Werner Herzog uses in his 1979 remake (apart from his clever ending where Jonathan turns into a vampire).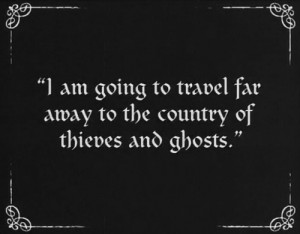 Significantly, Murnau (and Herzog) changes the ending, with a new idea unique to him that vampires are mortally susceptible to sunlight, and this is the first depiction in cinema of dawn's lethal effect on a vampire, as Ellen tries to be sexually fascinating to Orlok so he'll forget the clock. After this, of course, it became an essential part of the legend of the undead. Everyone could pinch this idea apparently.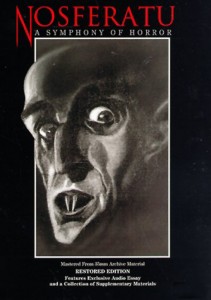 The unblinking, alarmingly skeletal actor Max Schreck etches his way into history as a nightmarishly hideous alien monster. His profoundly disturbing Count Orlok is the prototype for all movie vampires to come, and still a potent, scary icon of the culture. And this is despite only having a total of nine minutes' screen time. Powerful indeed! Although many of his scenes are obviously filmed in daylight, they are supposed to be tinted blue to suggest he's a solely creature of the night.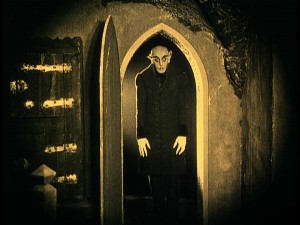 Henrik Galeen's screenplay brings out the novel's sexual undertones and ensures that there's menace aplenty in the famous tale. Transylvania's most famous citizen Orlok fancies a new residence; so he does what most us do, contact an estate agent. Unfortunately for the agent, Hutter (Gustav von Wangenheim), Orlok also fancies his wife, Ellen (Greta Schroeder-Matray).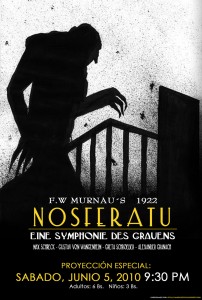 Planning to sell Orlok the house down the road from his own in Wisbourg, Hutter travels to the Count's ominous castle. The locals won't take him any where near the castle, but once there, he sells the house. Deal done, everything seems, well, apart from that damned shadow hanging over the Count's head, even in the daytime. And, when Hutter sees the Count sleeping in the crypt, well, that's it, he's definitely a nosferatu or vampire!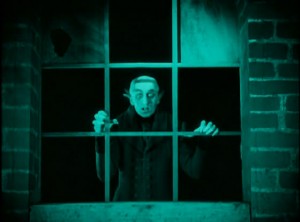 Hutter thinks he better clear out quick but finds he's shut in and can't. With Hutter trapped in the castle, the Count sets off for Wisbourg, hiding in a cargo of coffins, leaving loads of dead people in his wake.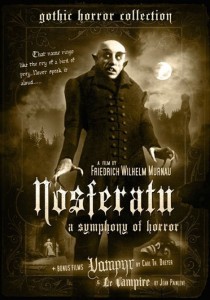 Maybe because he got there first, Murnau's determinedly single-minded interpretation is somehow far more chillingly emotional and devilishly spine-tingling than Werner Herzog's 1979 remake or Francis Ford Coppola's 1992 reworking, Bram Stoker's Dracula. It captures exactly the right bleak tone, hard edge and flesh-tinglingly creepy nature of the story.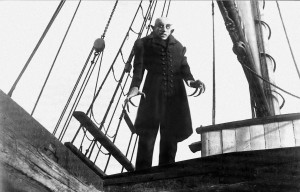 But it has to be said that the film does have a few longueurs between the striking images and memorable set pieces, so it may require a little bit of patience occasionally. Nevertheless, the eerie mood and thrilling visuals make up for everything.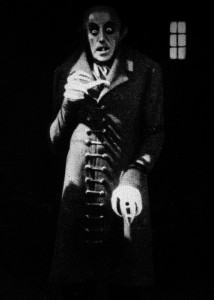 Filming on real locations in the Carpathian Mountains and in the towns of Wismar and Lubeck (still more or less unchanged after all these years), the Expressionist camerawork of Fritz Arno Wagner and production designs of Albin Grau create a uniquely unsettling atmosphere.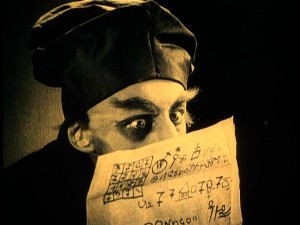 It was gloriously revived and restored as a Channel Four silent in 1997, in its then latest and most complete restoration form, with all the original colour tints and its Expressionist titles in a new translation. And a vibrant and splendid new score by James Bernard, of Hammer Films fame, accompanies it.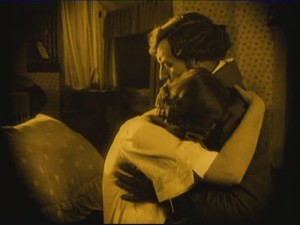 In 2009, it was converted into 3D as Orlok the Vampire.
In October 2013 a Special Edition was released to renewed acclaim in cinemas and on Blu-ray. It's a marvel, with the entire original movie, the colour tints, intertitles and credits (some re-created) and a pounding new score based on classical music that really drives the movie along. In this authentic version, the film is revealed as a continuously thrilling, magical masterpiece, and a great experience for modern audiences. A whole lot of work's gone into re-creating the magic, and there's plenty of wow factor.
You can't keep an old vampire lying down!
Five original prints of the movie have survived: 1) The 1926/27 French re-release print in black and white and slightly abridged. 2) A re-edited black and white 1930 German print, titled Die zwölfte Stunde. 3) A German black and white print of the original 1922 version preserved at East German State Filmarchives. It is in poor shape but preserves most of the original German-language intertitles. 4) The original 1922 French release print found in the vaults of the French Cinemateque in 1980s. It's also in poor shape, but it is the only surviving print with original colour tints. In 1994, the movie was faithfully reconstructed using all the existing prints, restoring the movie to its original length, the colour tints and the intertitles (some re-created).
The 2000 movie Shadow of the Vampire looks at the filming of Nosferatu and concludes that Max Schreck (Willem Dafoe) was an actual vampire.
© Derek Winnert 2013 Classic Movie Review 237
Check out more reviews on http://derekwinnert.com