Northwest Passage **** (1940, Spencer Tracy, Robert Young, Walter Brennan, Ruth Hussey) – Classic Movie Review 4785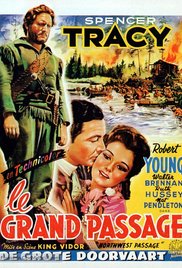 Spencer Tracy stars as Major Robert Rogers who intrepidly leads his Rangers through mountain, river and forest to put down Native Americans on the warpath in director King Vidor's robust, way above average 1940 MGM historical adventure yarn, with some great adventure highlights.
Robert Young and Walter Brennan also star as Langdon Towne and Hunk Marriner, who join Major Rogers's Rangers as they wipe out an Indian village. Arriving at Fort Wentworth, they find no soldiers or supplies.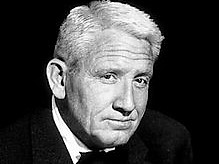 Tracy (1900–1967) is always extremely watchable in one of his key roles, though Young, Brennan and Ruth Hussey as Elizabeth Browne fail to raise the temperature too much.
Original titled Northwest Passage (Book 1 – Rogers' Rangers), this was to have been the first part of a saga but, although it was a hit, the studio got cold feet and there was not to be a second film. Don't you just hate bust sagas?
Director Vidor made a reluctant Tracy do so many of his own stunts he wore out his leather pants! Tracy recalls in his memoirs how difficult the shoot was on location in northeastern Washington State. Tracy spent endless days partly submerged in half-freezing water, battling insects and discomfort. Vidor was such a harsh task master that Tracy came to hate him and swore he would never work with him again. Jack Conway is uncredited co-director.
Laurence Stallings and Talbot Jennings's screenplay is based on Kenneth Roberts's novel.
Also in the cast are Nat Pendleton, Robert Barrat, Lumsden Hare, Donald MacBride, Louise Hector, Isabel Jewell, Douglas Walton, Addison Richards, Hugh Sothern, Regis Toomey, Montague Love, Lester Matthews, Truman Bradley, Rand Brooks, Verna Felton, Eddie Parker and Ray Teal.
It is shot in lovely Technicolor by Sidney Wagner and William V Skall, produced by Hunt Stromberg, scored by Herbert Stothart and designed by Cedric Gibbons and Malcolm Brown.
© Derek Winnert 2016 Classic Movie Review 4785
Check out more reviews on http://derekwinnert.com