Northern Pursuit *** (1943, Errol Flynn, Julie Bishop, Helmut Dantine, John Ridgely, Gene Lockhart) – Classic Movie Review 4753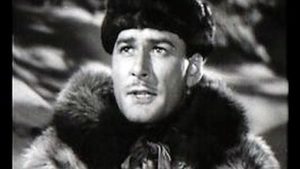 Director Raoul Walsh's propaganda 1943 adventure movie, set in Canada during the early years of World War Two, tells a good old-fashioned tale about an upright, dogged Mountie – the kind that always gets his man.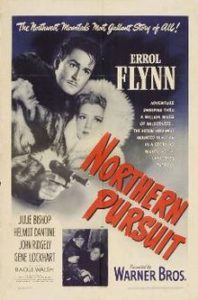 Errol Flynn stars as heroic Royal Canadian Mounted Police Corporal Steve Wagner, who captures the crash-landed German Luftwaffe spy Colonel Hugo Von Keller (Helmut Dantine). Wagner is of German descent and pretends sympathy with the ring of spies to thwart a Nazi sabotage plot. Von Keller escapes from the prison camp and Wagner chases him across the frozen tracts of Canada.
Maybe it is frankly unbelievable comic-book stuff, with stereotypes and clichés galore in the screenplay by Frank Gruber, Alvah Bessie and William Faulkner, though there are also serious themes and thoughtful ideas as well.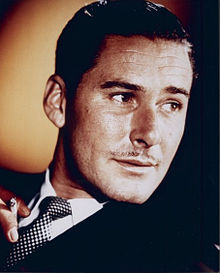 However, handsome Flynn makes a dashing, convincing hero, Dantine makes an excellent, equally convincing bad guy, and the film is robustly directed and handsomely made in eye-catching snowy landscapes, shot in black and white by Sidney Hickox.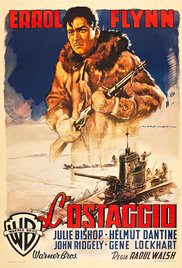 It also stars Julie Bishop as the hero's fiancée Laura McBain, John Ridgely as fellow Mountie Jim Austin, and Gene Lockhart as enemy agent Ernst Willis.
Also in the cast are Tom Tully, Bernard Nedell, Warren Douglas, Monte Blue, Alec Craig, Ken Christy, John Alvin, Tom Drake, Wallis Clark, Jim Duggan, Tom Fadden, Carl Harbaugh, Russell Hicks, Robert Hutton, Charles Judels, Fred Kelsey, James Millican, Pat Moriarty, Hugh Prosser, Guy Kingsford, Milton Kibbee, Eddie Searles, George Sherwood, Jay Siverheels and Cliff Storey.
Flynn was enduring the aftermath of his trial for the statutory rape of two minors. He was acquitted but his heroic screen image was damaged but, unlike some scandals, it didn't damage this film's box office. Here he is ironically cast as the faithful lover, which spurred great laughter in 1943 cinemas.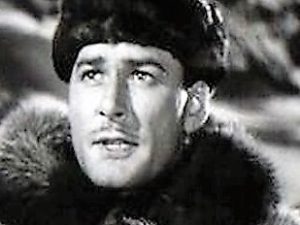 Battling tuberculosis, Flynn also got sick in May 1943, collapsed on the set and was hospitalised for a week.
Models were mixed with live action for the aircraft sequences. Interiors and exteriors were shot at the Burbank studios, with location shooting at Sun Valley, Idaho to replicate the Canadian north and stock footage of Winnipeg for the court martial sequence. Typically for the time, there was no location photography in Canada.
A.I. Bezzerides wrote the first screenplay, based on a magazine story, under the supervision of producer Jesse L Lasky, and the film was originally known as To the Last Man.
© Derek Winnert 2016 Classic Movie Review 4753
Check out more reviews on http://derekwinnert.com