Nocturama **** (2016, Finnegan Oldfield, Vincent Rottiers, Hamza Meziani, Manal Issa) – Movie Review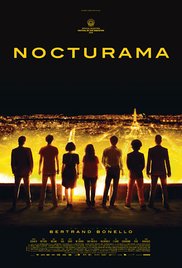 Writer-director Bertrand Bonello's delirious, bonkers thriller is set in a troubled Paris, where a group of disaffected young men and women in their early twenties carry out four bomb attacks at various central locations and then hide out for the night in an upscale department store.
Bonello fearlessly takes on the subjects of terrorism and consumerism to huge effect, with brio film-making, achieving enormous suspense and tension, fear and foreboding. Praise here is needed for the stylish shooting by cinematographer Léo Hinstin. Nocturama stars Finnegan Oldfield as David, Vincent Rottiers as Greg, Hamza Meziani as Yacine, Manal Issa as Sabrina, Martin Petit-Guyot as André, Jamil McCraven as Mika, Rabah Nait Oufella as Omar and Laure Valentinelli as Sarah, all of them well cast and up for it.
Just to give you an example of how weird it is, the whole film stops for one of the men to dress in drag and mime to Shirley Bassey's version of My Way ('what is a woman what has she got'). I just love the way there is no seeming reason for this at all – it just seems that Bonello fancied doing it – and the film still keeps on the rails. There's a great soundtrack and score (also by Bonello) too.
There is a vague idea during Nocturama of classic movies being referenced – Georges Romero's Dawn of the Dead, Kubrick's The Shining, Le Jour Se Leve (1939)  – but we recognise the idea of them, maybe, then quickly move on. It's all very self indulgent but Bonello makes you involved in his indulgences. He gives the idea of having graduated from film school, though maybe he's simply a movie buff.
I've no real clear idea what the film is about, though it gives the impression that it is about something, and about something important, but it is exhilarating and memorable, quite brilliant actually.
© Derek Winnert 2016 Movie Review
Check out more reviews on http://derekwinnert.com