No Peace under the Olives [Non C'è Pace tra gli Ulivi] *** (1950, Raf Vallone, Lucia Bosé, Folco Lulli) – Classic Movie Review 4767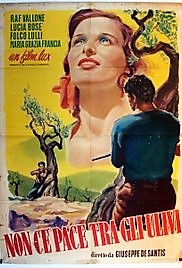 After fighting for his country, a young Italian peasant returns to his home in the hills only to find himself involved in more bloodshed when he avenges himself on the landowner who stole his girl and raped his sister.
An intriguing pseudo-Western tale, set in a beautiful Italian landscape, makes for a pleasing and exciting film, lit with the spark needed to transform it into a drama of some consequence. It stars Raf Vallone, Lucia Bosé, and Folco Lulli. Also in the cast are Maria Grazia Francia, Dante Maggio and Michele Riccardini.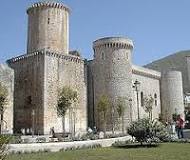 In an evident labour of love, writer/ director Giuseppe De Santis films his third movie in his hometown of Fondi, casting friends in small roles, and personally voicing the commentary.
The socially concerned story is boosted with Marxist and neo-realist philosophies, though this does not get in the way of a good yarn, powerfully and imaginatively told.
Fondi is in the province of Latina, Lazio, central Italy, halfway between Rome and Naples.
It is also known as Under the Olive Tree. It is advertised as 'A drama of shepherd love and vengeance by De Santis, director of BITTER RICE (Riso Amaro, 1949)'.
Gianni Puccini, Carlo Lizzani and Libero De Libero also had a hand in the stoory and screenplay.
© Derek Winnert 2016 Classic Movie Review 4767
Check out more reviews on http://derekwinnert.com