No Orchids for Miss Blandish * (1948, Jack La Rue, Hugh McDermott, Linden Travers) – Classic Movie Review 4766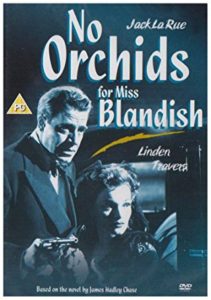 Writer/ director St John Legh Clowes turns in a shamefully stagey and inept 1948 British film version of the first-rate seminal 1939 pulp thriller crime novel from James Hadley Chase, which eventually got the film it deserved in The Grissom Gang (1971). Among its many troubles is that, while it is set with archetypal American characters in New York, it is made in the UK with a struggling, almost entirely British cast.
Nobody can handle anything properly – from the American accents and characters to the challenging, brutal story about a kidnapped heiress who falls for one of her crazed captors. It is of course an early example of the so-called Stockholm syndrome, the psychological condition that causes hostages to develop sympathetic sentiments towards their captors.
Both as writer and director, Clowes fails totally to make the best of this uniquely disturbing story. And just look at those cramped cardboard sets and those unbelievable performances!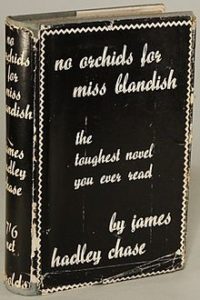 Exceptions could be made for the acting of the film's genuine American Jack La Rue as the gangster Slim Grissom and Linden Travers as the elegant Miss Blandish. Both of them give intriguing performances. And the movie is fascinating as an example of British film noir, as a spinoff from Chase's novel, for early appearances (and bad acting) of an interesting cast and for the controversy it caused.
It co-stars Hugh McDermott as crusading reporter Dave Fenner, Walter Crisham as treacherous gang member Eddie Schultz, Lilli Molnar as the unhinged Mob gang boss Ma Grissom.
Travers (sister of actor Bill Travers) had played Miss Blandish on the London stage before filming the role, which she judged her favourite. Filmed at the Alliance Studios in Twickenham, it is shot in black and white by Gerald Gibbs, produced by George Mintne, A R Shipman and Oswald Mitchell and scored by George Melachrino.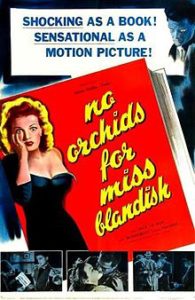 When it was passed in the UK with an uncut 'A' rating, there was a public outcry about the implied violence and rape in the story. The normally sensible critic Dilys Powell said the film be 'branded with a "D" certificate for disgusting'. The Observer critic C A Lejeune said: 'This repellent piece of work scraped up all the droppings of the nastier type of Hollywood movie'. Even the Monthly Film Bulletin joined in, calling it 'the most sickening exhibition of brutality, perversion, sex and sadism ever to be shown on a cinema screen'.
Local councils banned the film, MPs demanded an investigation into the BBFC, the Bishop of London denounced it, and finally BBFC film censor Sir Sidney Harris apologised for having 'failed to protect the public'. Of course, now it is impossible to try to understand any of this.
Controversy brought its own rewards, triumphing over quality. Where it was not banned, it broke box office records and was commercially successful.
Also in the cast are Zoe Gail, Leslie Bradley, Charles Goldner, Percy Marmont, Frances Marsden, Danny Green as thuggish gangster Flyn, Jack Lester, Bart Norman, Bill O'Connor, Irene Prador, John McLaren, Jack Durant, Michael Balfour (1918–1997), Gibb McLaughlin, Sidney James as a barman, Walter Gotell, as a nightclub doorman, Richard Nelson, Annette D Simmonds and Harold Kasket (in his debut).
aged 44, in London.
© Derek Winnert 2016 Classic Movie Review 4766
Check out more reviews on http://derekwinnert.com