No Highway [No Highway in the Sky] **** (1951, James Stewart, Marlene Dietrich, Glynis Johns, Jack Hawkins, Kenneth More) – Classic Movie Review 5795
Director Henry Koster's 1951 British drama is based on a novel by Nevil Shute, adapted for the screen by R C Sherriff, Oscar Millard and Alec Coppel.
Marlene Dietrich stars as a beautiful film star who is told half way across the Atlantic Ocean that the plane she is on is going to crash because of an inherent metal-metal fatigue meltdown failure in the design by its manufacturing company.
James Stewart plays one of the company's employees, an absent-minded professor kind of aeronautical engineer, Theodore Honey, who is on the aircraft and has figured out the timing of this disaster scenario that the plane's structure will collapse and all aboard will be die unless the pilot turns back. But, at first, no one will believe him – except for Dietrich's character Monica Teasdale.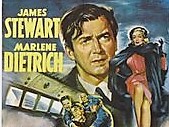 Koster's 20th Century Fox movie is an excellent suspense drama, with lots of tension and convincing aircraft detail, interspersed with a touch of gentle comedy and even some romance.
It is very well played by the two stars, who make it a memorable occasion, and by Glynis Johns (playing a lovesick air stewardess, Marjorie Corder), Jack Hawkins (as Dennis Scott), Janette Scott (as Elspeth Honey), Elizabeth Allan (as Shirley Scott) and Kenneth More, who lead the fine team of British stalwarts.
Also in the cast are Niall MacGinnis, Ronald Squire, Jill Clifford, David Hutcheson, Ben Williams, Maurice Denham, Wifrid Hyde White, Hector MacGregor, Basil Appleby, Michael Kingsley, Pete Murray, Dora Bryan, Felix Aylmer, Karel Stepanek, John Salew, Marcel Poncin, Cyril Smith, Philip Ray, Arthur Lucas and Tom Gill.
It runs 98 minutes, is shot in black and white by Georges Périnal and produced by Louis D Lighton.
Unimpressed by her studio costumes and fur stole, Dietrich chose her own wardrobe from the latest Christian Dior collection and made the studio pay.
© Derek Winnert 2017 Classic Movie Review 5795
Check out more reviews on http://derekwinnert.com