Nikita [La Femme Nikita] **** (1990, Anne Parillaud, Jean-Hughes Anglade, Tchéky Karyo, Jeanne Moreau, Jean Reno) – Classic Movie Review 6028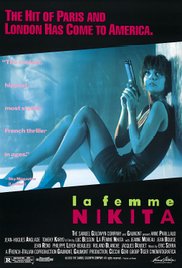 Anne Parillaud stars as the 20-year-old convicted dropout punkette Nikita, who thinks nothing of killing to get drugs, in writer-producer-director Luc Besson's dark and trendy 1990 French neo noir thriller. It was a big hit in France and a cult film success elsewhere.
Nikita is arrested for a felony but, spared from going to jail, is reprogrammed with a new identity and trained to be an icy, top-secret government assassin spy. And then she falls in love with her superior, Marco (Jean-Hughes Anglade).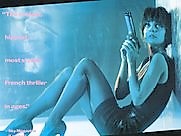 Nikita is a stylish film that, like its heroine, lives on the edge. It is violent, tense and exciting. Besson shoots at bullet speed, unable to resist anything that is eye-catching. But it is Parillaud who keeps you believing in it and is convincing as a female killer handy with a gun.
Also in the cast are Tchéky Karyo as Bob, Jeanne Moreau as Amande, Jean Reno as Victor, Roland Blanche, Marc Duret, Philippe du Janerand, Philippe Leroy, Patrick Fontana, Alain Lathière, Laura Chéron, Jacques Boudet and Jean Bouise.
It is very smartly shot by Thierry Arbogast, produced by Jérôme Chalou and scored by Eric Serral.
It was remade in 1993 as Point of No Return [The Assassin] with Bridget Fonda, Gabriel Byrne, Anne Bancroft and Harvey Keitel as Victor the Cleaner (Jean Reno's role).
The five season, 96 episode TV series La Femme Nikita followed in 1997–2001.
© Derek Winnert 2017 Classic Movie Review 6028
Check out more reviews on http://derekwinnert.com