Night of the Living Dead *** (1990, Tony Wood, Patricia Tallman, Tom Towles) – Classic Movie Review 4841
This 1990 straight colour remake of George A Romero's 1968 classic black-and-white horror film Night of the Living Dead is directed by his makeup expert Tom Savani, with a bigger budget and more gore, and a screenplay by Romero that departs from the original only at the climax. It stars Tony Wood, Patricia Tallman, and Tom Towles.
The remake proves a competent and entertaining but unnecessary horror film, without the power or poetry of the original. It becomes a mere action thriller with some suspense about whether a group of survivors can stop the zombies crashing in on the farmhouse where they are holed up.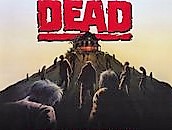 Romero also produces with original co-writer John A Russo, and Menahem Golan and Russ Steiner. It is shot by Frank Prinzi, scored by Paul McCollough and designed by James Feng.
Also in the cast are McKee Anderson, William Butler and Katie Finnerman.
© Derek Winnert 2017 Classic Movie Review 4841
Check out more reviews on http://derekwinnert.com