Night of the Blood Beast * (1958, Michael Emmet, Angela Greene, John Baer, Ed Nelson, Steve Dunlap, Georgianna Carter, Tyler McVey) – Classic Movie Review 4953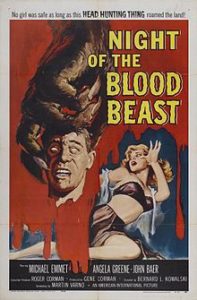 Director Bernard L Kowalski's low-budget, black and white 1958 sci-fi horror movie tells the sorry tale of a hapless team of scientists, who are stalked by an alien Creature.
An astronaut Steve Dunlap (John Baer) is killed on re-entry to Earth during his space flight, and the Creature implants its embryos in the astronaut's body, which is seeded with rapidly gestating aliens. The base for the rescue team that recovered the astronaut is then cut off from the outside world by the Creature.
The astronaut's body is examined by Dr Alex Wyman (Tyler McVey) and Steve's fiancée Dr Julie Benson (Angela Greene), but then Steve resurrects and the discovery of alien embryos inside his body threatens the survival of those trapped at the base.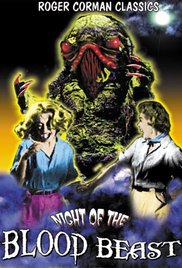 It is one of the films that seems to be a key influence on Alien (1979), along with The Quatermass Xperiment (1955) and It! The Terror from Beyond Space (1958). It is a shame, then, that it is not very good, though it is certainly amusing with its terrible acting and rotten special effects, and fun for its only 62 minutes running time.
It is produced by legendary exploitation film-maker Roger Corman and his brother Gene and is written by first-time screenwriter Martin Varno, who was just 21.
It stars several of Roger Corman's regular repertory company of actors, including Michael Emmet, Ed Nelson, Steve Dunlap, Georgianna Carter and Tyler McVey, with Angela Greene as Dr Julie Benson John Baer as Steve Dunlap and Ross Sturlin as The Creature.
It was released in December 1958 in a double bill with She Gods of Shark Reef.
Varno wrote the script in six weeks, the original working title of which was Creature from Galaxy 27. The story was partly influenced by the then current real-life space race and the Howard Hawks film The Thing from Another World (1951). Screenwriters Jerome Bixby and Harold Jacob Smith worked uncredited on the dialogue.
It was shot on a $68,000 budget over seven days at the Charlie Chaplin Studios, Bronson Canyon, and at a TV station on Mount Lee, Hollywood.
The Blood Beast alien costume was used in the Roger Corman film Teenage Caveman (1958), filmed two weeks earlier. Ross Sturlin portrayed the monster in both films. The art director Daniel Haller, who built the rocket-ship and other props, slept at the sound stage between working.
Varno pursued two successful arbitration cases against the Cormans, one for underpayment, the other challenging Gene Corman's original story writing credit, while Varno claimed to have written the entire story.
The Cormans tried to sex it up on the adverts: 'No girl was safe as long as this head-hunting thing roamed the land!' Or was this just an attempt to sell their sci-fi horror movie to young women?
© Derek Winnert 2017 Classic Movie Review 4953
Check out more reviews on http://derekwinnert.com