Night Has a Thousand Eyes **** (1948, Edward G Robinson, Gail Russell, John Lund, Virginia Bruce, William Demarest, Richard Webb, Jerome Courtland) – Classic Movie Review 4270
Director John Farrow's taut and moody 1948 little suspense thriller stars Edward G Robinson as a vaudeville theatre psychic turn, phony stage mentalist John Triton, who acquires powers of precognition and predicts that a troubled rich girl, Jean Courtland (Gail Russell), will soon have a violent end.
John Lund plays Russell's worried fiancé, Elliott Carson, who looks into the affair after Jean attempts suicide, in a story unfolding in typical Forties-style flashback.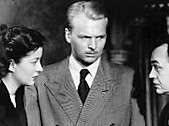 Night Has a Thousand Eyes is a top drawer movie of its kind, lifted high by the great Robinson's superbly effective acting. It gains one extra star each for Farrow's tense direction, John F Seitz's eerie film noir photography and the teasing Cornell Woolrich story, adapted for the screen by Barré Lyndon and Jonathan Latimer.
It bears a resemblance to the 1935 Claude Rains film The Clairvoyant, but it is not a remake of it.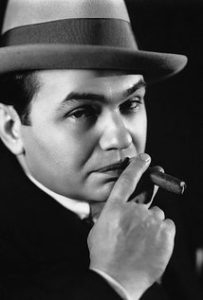 Also in the cast are Virginia Bruce, William Demarest, Richard Webb, Jerome Courtland, Onslow Stevens, John Alexander, Roman Bohnen, Luis Van Tooten, Henry Gutman, Mary Adams, Douglas Spencer, Dorothy Abbott, Harry Allen, Gladys Blake, Bill Burt, Helen Chapman, Walter Cook, Jane Crowley, James Davies, Lester Dorr, Jim Drum, Jimmie Dundee, Edward Earle, Julia Faye, Margaret Field, Antonio Filauri, Pat Flaherty, Violet Goulet, Marilyn Gray, William Haade, Frank Hagney, Betty Hannon, Sam Harris, Len Hendy, Stuart Holmes, Jerry James, Jean King, Lyle Latell, Weaver Levy, Frances Morris, George Nokes, Rae Patterson, Albert Pollet, Renee Randall, Joey Ray, Ruth Roman, Audrey Saunders, Ray Saunders, Russell Saunders, John Sheehan, Bob Stevenson, Marie Thomas, Anna Tom, Harland Tucker, Minerva Urecal, Philip Van Zandt, Eleanore Vogel, Regina Wallace, Artane Wong and Jean Wong.
© Derek Winnert 2016 Classic Movie Review 4270
Check out more reviews on http://derekwinnert