Niagara**** (1953, Marilyn Monroe, Joseph Cotten, Jean Peters) – Classic Movie Review 723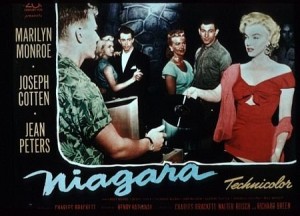 Director Henry Hathaway's 1952 movie is a brilliantly sexy, steamy and entertaining noirish crime thriller. After years in bit parts, the sexy young Marilyn Monroe rockets at last to stardom as Rose Loomis, the promiscuous wife who plans to bump off her husband George (Joseph Cotten) while honeymooning at a Niagara Falls motel. Monroe has to play a 'raging torrent of emotion that even nature can't control' and she really pulls this outrageous notion off.
Rose plots with slimy Ted Patrick (Richard Allan) to bump George off but, after he is reported missing, fellow honeymooner Polly Cutler spies him at the motel, though her new husband Ray thinks she's imagining it. Now Rose is in trouble.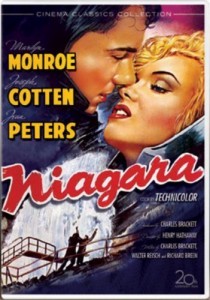 It was advertised as a high water mark in suspense, and this time they didn't exaggerate. Much of Niagara's success is thanks to Monroe's bold and brassy iconic appearance and to Cotten's portrayal of smouldering appearance of outer calm that's actually a fire bomb about to explode, an expertly controlled and delivered performance that contrasts perfectly with Monroe's much flashier turn.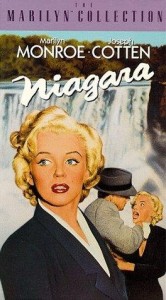 If Monroe and Cotten are the in-their-prime stars and obvious main attractions here, they sometimes have competition from their glorious co-star, Niagara Falls itself, which in cinematographer Joseph MacDonald's lenses looks even more amazing than the real thing if you go visit there. It's all filmed in the loveliest Technicolor which has rarely seemed more unreal or exciting. It's one gorgeous looking movie.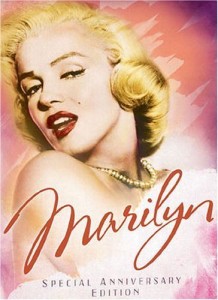 Jean Peters and Casey Adams (aka Max Showalter) play Polly and Ray Cutler, another honeymooning couple in Niagara, who get embroiled in the plot. Unfortunately, they're pretty dull but then they have dull roles to play.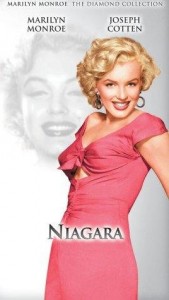 It's a slight pity that Charles Brackett and Walter Reisch's screenplay (based on a story by Richard L Breen) lacks real ambition or big surprises or shock plot revelations, not going the last nine yards.
And it's a little bit of a shame too that there's no special flair or quirky distinction in Hathaway's merely professional direction, not seeking to push any envelopes. Just think what Hitchcock could have done with it. That said, Niagara has plenty of charms, atmosphere and suspense, and is a stupendous thriller, just the same.
Kiss (music by Lionel Newman, lyrics by Haven Gillespie) is played on the phonograph and sung in part by Marilyn.
© Derek Winnert 2014 Classic Film Review 723 derekwinnert.com