New York, New York ***** (1977, Robert De Niro, Liza Minnelli, Lionel Stander, Mary Kay Place, Barry Primus) – Classic Movie Review 5213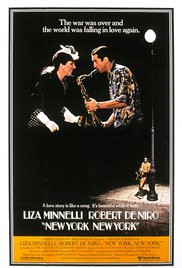 Director Martin Scorsese's immensely stylish 1977 show is a wonderful salute to the era and culture of the vintage big band musicals. Robert De Niro stars as Jimmy Doyle, the smooth but selfish and erratic saxophonist involved a love-hate relationship with Francine Evans (played by Liza Minnelli), the lounge singer he meets on V-J Day when World War Two ends. The two have a rocky ride on their romance, as they begin the long, uphill battle for their careers.
The 1940s period is awesomely re-created in Boris Leven's astounding production designs. The stars are tremendous, both separately and as a pair. The Fred Ebb and John Kander music is superlative, especially of course the evergreen hit title number. The screenplay by Earl MacRauch and Mardik Martin is exquisitely honed, while Laszlo Kovacs's Technicolor cinematography and Ralph Burns's music arrangements are both immaculate.
They just could not be better. Nothing about this film could be better. It is perfect. It is one of Scorsese's best and least appreciated movies.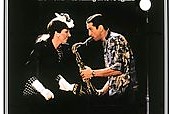 Alas, it did not connect with the paying public when it was released at  in a cut version edited down to 136 minutes. But it has since been properly re-evaluated as a masterwork when reissued in 1981 in the complete version of 163 minutes, restoring and retaining the whole of the extraordinary 'Happy Endings' sequence. This is the version to see.
Also in the cast are Lionel Stander, Mary Kay Place, George Memmoli, Murray Moston, Barry Primus, Georgie Auld, Dick Miller, Diahnne Abbott, and Don Calfa, with a cameo appearance by Jack Haley as the Master of Ceremonies.
De Niro learned to play the saxophone for the film.
© Derek Winnert 2017 Classic Movie Review 5213
Check out more reviews on http://derekwinnert.com