Near Dark **** (1987, Adrian Pasdar, Jenny Wright, Lance Henriksen, Bill Paxton, Jenette Goldstein) – Classic Movie Review 6039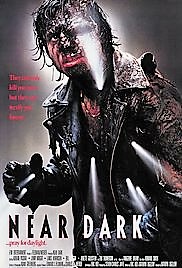 Director Kathryn Bigelow's 1987 horror movie sees a gang of southern vampires wandering from state to state in their camper van, murdering as they go. But then US mid-west farm country boy Caleb Colton (Adrian Pasdar) falls for one of them – the nervy drifter Mae (Jenny Wright).
This is a viscerally powerful, startling looking movie about love and horror from cult director Bigelow. From the opening shot of a mosquito in close-up, she delivers a barrage of action, wild images and wilder ideas, showing us graphically what it would be like to be a vampire.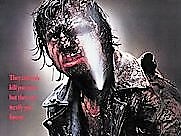 Written by Eric Red and Bigelow, this intelligent mainstream shocker packs plenty of thump. But Bigelow seems more interested in shocks than exploring the vampire legend, so she ends up with a movie with bite but (literally) no fangs. [Spoiler alert] The ending is commonplace and banal – and you cannot cure vampires with blood transfusions!
Pasdar turns in a strong, likeable lead performance, Lance Henriksen stands out as Jesse Hooker, the aged leader of the vampires, while Bill Paxton (as Severen), Jenette Goldstein (as Diamondback), Tim Thomerson and James LeGros also score. The Tangerine Dream score is a strong asset, as is Adam Greenberg's cinematography.
Also in the cast are Marcie Leeds, Joshua [John] Miller, Kenny Call, Ed Corbett, Troy Evans and Bill Cross.
Lance Henriksen, Bill Paxton, Jenette Goldstein all starred in Aliens, directed by Bigelow's ex-husband James Cameron.
© Derek Winnert 2017 Classic Movie Review 6039
Check out more reviews on http://derekwinnert.com