Mystery of the Wax Museum **** (1933, Lionel Atwill, Fay Wray, Glenda Farrell, Frank McHugh) – Classic Movie Review 5024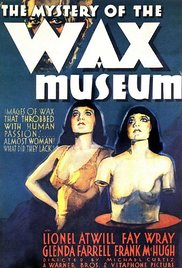 'Women of FLESH become WAX in his hands… women of wax become flesh!' Director Michael Curtiz's 1933 classic horror movie is a gruesomely atmospheric picture, with Lionel Atwill starring as Ivan Igor, the scarred museum owner with human wax-covered models, and Glenda Farrell co-starring as Florence Dempsey, the newswoman who tries to stop his rampaging.
Atwill is clearly enjoying himself and the film provides another splendid chance for King Kong's Fay Wray to give a workout to her screaming again when her character Charlotte Duncan finds Ivan Igor's ghastly face.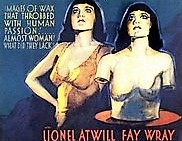 The screenplay by Don Mullally and Carl Erickson is based on a play by Charles S Belden. It is beautifully shot by Ray Rennahan and the lovely use of two-tone Technicolor gives it a lift. Warner Bros present a fine production with handsome sets by production designer Anton Grot.
Also in the cast are Frank McHugh, Gavin Gordon, Allen Vincent, Edwin Maxwell, Holmes Herbert, Claude King, Arthur Edmund Carewe, Thomas E. Jackson, DeWitt Jennings, Matthew Betz, and Monica Bannister.
Remakes: House of Wax (1953) with Vincent Price and House of Wax (2005) with Chad Michael Murrray.
© Derek Winnert 2017 Classic Movie Review 5024
Check out more reviews on http://derekwinnert.com