My Son, the Fanatic ***½ (1997, Om Puri, Rachel Griffiths, Akbar Kurtha, Stellan Skarsgård) – Classic Movie Review 4046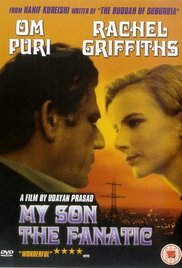 Director Udayan Prasad's 1997 interesting, involving and carefully made drama is based on a novel by Hanif Kureishi, the screen-writer of My Beautiful Laundrette, Sammy and Rosie Get Laid and London Kills Me, who writes his own screenplay.
Om Puri is first rate in a nuanced performance of power and authority as a Pakistani cabbie Parvez, who links up with hooker Bettina (Rachel Griffiths) and are both embroiled in trouble caused by Islam fundamentalists. Parvez has a beloved grown-up son, Farid (Akbar Kurtha), about to be engaged to Madeleine Fingerhut (Sarah-Jane Potts), the daughter of the local Chief Inspector (Geoffrey Bateman).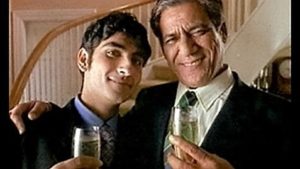 Griffiths fleshes out what could have been a stereotype character. Rescued by the British Film Institute for UK release, it deserved wider distribution.
Also in the cast are Stellan Skarsgård as Schitz, Gopi Desai, Harish Patel, Judi Jones, and Bernard Wrigley.
© Derek Winnert 2016 Classic Movie Review 4046
Check out more reviews on http://derekwinnert