My Name Is Julia Ross **** (1945, Nina Foch, Dame May Whitty, George Macready) – Classic Movie Review 4234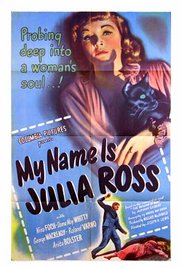 Director Joseph H Lewis's devious 1945 film noir thriller stars the young and stylish Nina Foch, who grabs her first starring role as the unfortunate titular Julia Ross, who takes a job as the new live-in secretary of a rich widow, Mrs Hughes (Dame May Whitty). The old lady then plots with her son Ralph (George Macready) to kill Julia with poison and make it look like suicide to hide the fact that they have murdered George Macready's wife.
Julia takes up her new employment and goes to live at Mrs Hughes's house but wakes up in another house in different clothes and with a new identity two days later. She is told she is Mrs Hughes's daughter-in-law and has had a nervous breakdown. In fact, the evil Ralph has murdered his wife and disposed of her body, intends to pass Julia off as his wife, then plans to kill her and make it look like suicide.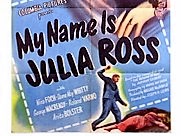 We don't necessarily have to believe in this devilishly clever if rather contrived and cheaply made ($175,000) exercise in style and suspense to find it extremely tense, chilling and satisfying.
Because the result is a first-rate, memorable film noir with a tense, eerie atmosphere, imaginative direction and thoroughly enjoyable performances all round, particularly from the appealing Foch, but also Whitty and Macready.
Also in the cast are Roland Varno, Anita Sharp-Bolster, Doris Lloyd, Leonard Mudie, Joy Harington, Queenie Leonard, Harry Morgan, Olaf Hytten, Leyland Hodgson and Reginald Sheffield.
Burnett Guffey screenplay makes light work of adapting Anthony Gilbert's novel The Woman in Red. The book is reworked as 1987's Dead of Winter.
Dame May Whitty is for ever remembered as the vanishing Miss Froy in Hitchcock's The Lady Vanishes.
© Derek Winnert 2016 Classic Movie Review 4234
Check out more reviews on http://derekwinnert