My Girl * (1991, Anna Chlumsky, Macaulay Culkin, Dan Aykroyd, Jamie Lee Curtis, Richard Masur) – Classic Movie Review 5774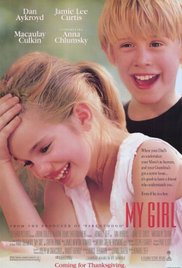 Director Howard Zieff's 1991 Seventies-set family situation comedy drama stars Anna Chlumsky as Vada Sultenfuss, an 11-year-old hypochondriac tomboy with a widowed father (Dan Aykroyd) who runs an in-house funeral parlour, a best friend called Thomas J (Macaulay Culkin), and a crush on her English teacher Mr Bixler (Griffin Dunne).
[Spoiler alert] Enter new funeral cosmeticist, makeup expert Shelly (Jamie Lee Curtis), who soon falls for the apparently charming old grump of a dad. But exit Culkin, fatally stung by bees ('there were just too many of them!').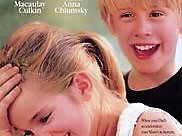 Written by Laurice Elehwany, this is a film about death, loss and acceptance. But it is larded with treacle and sweet music. It is got the shakiest hold on the period (1972) that it is set in, which seems to consist of loons (that's the trousers!) and Donny Osmond and little else.
It was a bad mistake to follow the story of Chlumsky just at the moment when the world fell in love with Culkin. But worse mistakes are to kill off the world's number one star, to make Curtis look unattractive in Seventies hippy clothes, and to give Aykroyd such a boring role when he makes it look so easy.
Also in the cast are Richard Masur as Vada's uncle, Ann Nelson and Tom Villard.
Howard Zieff's My Girl 2 followed in 1994, with Dan Aykroyd, Jamie Lee Curtis, Anna Chlumsky and Richard Masur all returning.
Just to remind you of other bad bee movies – The Swarm, Killer Bees, The Savage Bees, The Deadly Bees and The Bees. Oh baby, bee hive!
© Derek Winnert 2017 Classic Movie Review 5774
Check out more reviews on http://derekwinnert.com