My Cousin Vinny **½ (1992, Joe Pesci, Marisa Tomei, Ralph Macchio, Fred Gwynne, Austin Pendleton, Lane Smith, Bruce McGill, Maury Chaykin) – Classic Movie Review 4120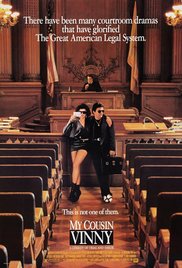 British director Jonathan Lynn's American 1992 situation comedy has its moments, though it is often boring and unsubtle, as it is written (by Dale Launer) and directed with clumsy hands. However, the hard-working actors deliver quite enjoyable performances that keep the movie limping along genially and then finally turn it round for an entertaining climactic half hour.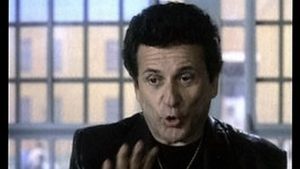 Ralph Macchio and Mitchell Whitfield play Bill Gambini and Stanley Rothenstein, New York University students who just received scholarships to UCLA, driving to their new college via the Deep South, where they are wrongly arrested for murder and robbery. Macchio's cousin Vinny, an inept Brooklyn lawyer (Joe Pesci), arrives with his daffy girlfriend Mona Lisa Vito (Marisa Tomei, in a most cute and beguiling Best Supporting Actress Oscar-winning performance) and makes things much worse when he argues with the bigoted judge, Chamberlain Haller (Fred Gwynne, quite good fun).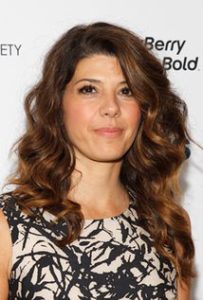 Alas, it is a largely unbelievable and un-winning yarn, with even an actor as skilled as Pesci lost for an hour or so, trying desperately to pitch his performance somewhere between the madness of his Oscar-winning turn in Goodfellas and the slapstick villainy of his role Home Alone.
Sadly, Macchio's part starts well but more or less disappears after the first 20 minutes, Whitfield gets no room to shine, Austin Pendleton's role as the state attorney is miscalculated, and Gwynne is shade unfocused though still very genial. Tomei's attractive performance and the Perry Mason-style courtroom drama of will-they?/won't-they? be convicted of murder just about save the day. But it is a close call.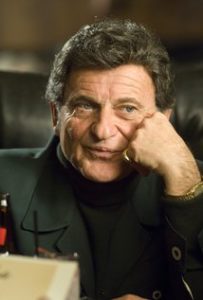 Also in the cast are Lane Smith, Bruce McGill, Maury Chaykin, Paulene Myers, Raynor Scheine, James Rebhorn, Chris Ellis, Michael Simpson, Lou Walker and Kenny Jones.
© Derek Winnert 2016 Classic Movie Review 4120
Check out more reviews on http://derekwinnert