Murder on the Orient Express **** (1974, Albert Finney, Ingrid Bergman, Sean Connery, Vanessa Redgrave) – Classic Movie Review 1304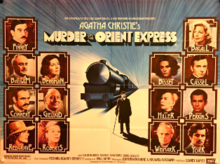 Director Sidney Lumet's sumptuous, famous 1974 film mystery set a cinema trend, starting a long, profitable train of Agatha Christie hit movies. This film's tagline is 'The greatest cast of suspicious characters ever involved in murder.'
A dazzling, all-star cast boards famous train, but alas all too soon a nasty American business tycoon, Mr. Ratchett (Richard Widmark) gets murdered. But luckily, or perhaps unluckily, for the passengers, ace Belgian sleuth Hercule Poirot is also on the train. Poirot is asked by his train company director friend Bianchi (Martin Balsam) to investigate the killing.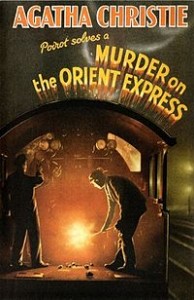 The examination of the body by Dr Constantine (George Coulouris) shows Ratchett was stabbed 12 times, and at least three of them could have been fatal wounds. The stopped watch in the victim's pocket, as well as Poirot's timeline of passenger activities the night before, both show that Ratchett was murdered at about 1:15 a.m. The train was stuck in fresh snow, there are no tracks in the snow and the doors to the other cars were locked, so the killer is almost certainly still on the train.
Poirot discovers Ratchett's real name was Cassetti, a Mafia gangster who five years earlier kidnapped Daisy Armstrong, infant daughter of a rich British Army colonel living in the US with his American wife.
No one can truly say that Albert Finney is ideal casting as Poirot, indeed it is quite eccentric casting. But nevertheless, in heavy disguise, he gives a deliciously, amusingly hammy performance as the fussy detective as he sets out to unmask whodunit while the whole train and all its passengers and crew are stuck in a spectacular snowdrift. It proved Finney's only outing as Poirot as Peter Ustinov took over as Poirot in six later films.
This is a plush, highly enjoyable mystery movie, with striking cinematography by Geoffrey Unsworth, beautiful 1930s set designs by Tony Walton, an exquisitely pretty score by Richard Rodney Bennett and, above all maybe, a first-class train. It is directed with tender loving care by Lumet and exquisitely produced by the John Brabourne-Richard Goodwin team. Paul Dehn carefully caves out a good, solid screenplay from Christie's 1934 novel.
Rather unfairly singled out from what is an ensemble movie, Ingrid Bergman won a Best Supporting Actress Oscar. It is a good performance but not one of her finest and she is really no better than any others of the stars in the cast.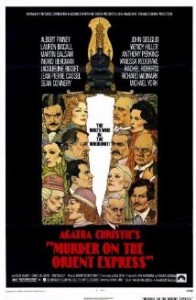 Other cast members include Lauren Bacall, Wendy Hiller, Sean Connery, Vanessa Redgrave, Michael York, Martin Balsam, Richard Widmark, Jacqueline Bisset, Jean-Pierre Cassel, Rachel Roberts, John Gielgud, Anthony Perkins, Colin Blakely, Jeremy Lloyd, Denis Quilley, George Coulouris, Vernon Dobtcheff, John Moffatt and George Silver.
Richard Rodney Bennett's Orient Express theme has been reworked into an orchestral suite and performed and recorded several times. It is performed on the soundtrack album by the Orchestra of the Royal Opera House, Covent Garden, under Marcus Dods, with the composer as piano soloist.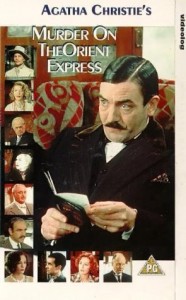 Exteriors were mostly shot in France in 1973, with a railway workshop near Paris standing in for Istanbul station. The scenes of the train going through central Europe were filmed in the Jura Mountains on the then-recently closed railway line from Pontarlier to Gilley, with the scenes of the train stuck in snow being filmed in a cutting near Montbenoît.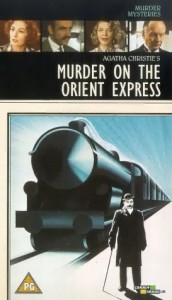 Producer John Brabourne got his father-in-law Lord Mountbatten to help persuade a reluctant Christie into selling the film rights. Christie's husband Max Mallowan said: 'Agatha herself has always been allergic to the adaptation of her books by the cinema, but was persuaded to give a rather grudging appreciation to this one.'
But later Christie said: 'It was well made except for one mistake. It was Albert Finney, as my detective Hercule Poirot. I wrote that he had the finest moustache in England — and he didn't in the film. I thought that a pity — why shouldn't he?'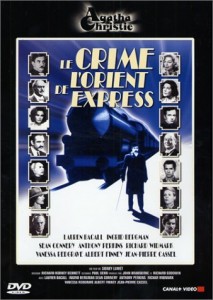 Made on a tight £1.4 million budget, it made a highly profitable £19 million at the box office.
It was the first of a number of all-star adaptations of Agatha Christie novels in the 1970s and early 1980s, including The Mirror Crack'd with Miss Marple (Angela Lansbury) and Death on the Nile, Evil Under the Sun and Appointment with Death with Hercule Poirot (Peter Ustinov).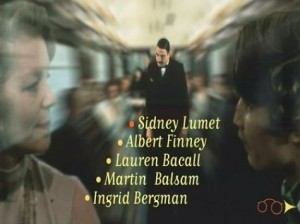 Christie's book, published on 1 January 1934, was remade for TV in 2001 in a disappointing modernised version, with Alfred Molina giving an entirely adequate performance as Poirot. In a third film version, David Suchet reprised the role of Poirot in the TV series co-produced by ITV Studios and WGBH-TV. It aired on 11 July 2010 in the United States and on Christmas Day 2010 in the UK. Eileen Atkins, Hugh Bonneville, Jessica Chastain, Barbara Hershey, Toby Jones and David Morrissey co-star.
It was again remade for TV with David Suchet as Poirot as Murder on the Orient Express and first screened on 11 July 2010 as part of his epic 70-episode Agatha Christie's Poirot series (1989–2013).
On 20 November 2015 it was announced that Kenneth Branagh will star as Poirot and direct a new adaptation of Murder on the Orient Express (2017), with Michael Green writing the screenplay. The 1974 original is the grand-daddy of all these films, still vibrant, and yet another movie not in need of a remake. If we absolutely have to have one, maybe Branagh could have the Richard Widmark role and David Suchet could play Poirot again.
Johnny Depp, Daisy Ridley, Judi Dench, Michelle Pfeiffer, Michael Pena, Lucy Boynton, Tom Bateman, Derek Jacobi and Leslie Odom Jr are on board the death train.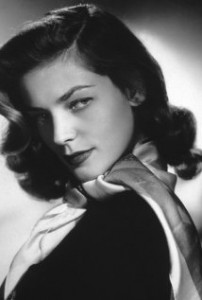 Adored screen legend Lauren Bacall (who plays Mrs Hubbard) died on August 12 2014, aged 89.
Christie's novel was first published at $2 in the United States on 28 February 1934 as Murder in the Calais Coach to avoid confusion with Orient Express, the US title of the 1932 Graham Greene novel Stamboul Train.
http://derekwinnert.com/death-on-the-nile-1978-peter-ustinov-angela-lansbury-bette-davis-maggie-smith-1299/
http://derekwinnert.com/the-mirror-crackd-1980-angela-lansbury-classic-movie-review-1300/
http://derekwinnert.com/evil-under-the-sun-peter-ustinov-maggie-smith-james-mason-diana-rigg-classic-movie-review-1305/
© Derek Winnert 2014 Classic Movie Review 1304
Check out more reviews on http://derekwinnert.com