Murder by Decree **** (1979, Christopher Plummer, James Mason, Anthony Quayle, David Hemmings, Susan Clark, John Gielgud, Donald Sutherland, Frank Finlay, Geneviève Bujold) – Classic Movie Review 4915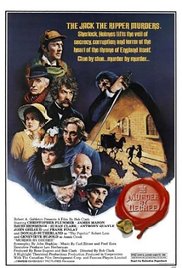 Christopher Plummer and James Mason ooze sheer smooth charisma as Sherlock Holmes and Dr Watson, who investigate Jack the Ripper's grisly murders of Whitechapel prostitutes and uncover a web of corruption, in director Bob Clark's compelling 1979 mystery thriller.
The story, adapted from Elwyn Jones and John Lloyd's book The Ripper File, confidently presents its convincing explanation of the famously unsolved serial killer case. Holmes discovers a conspiracy to protect the identity of killer.
Geneviève Bujold plays Annie Crook, the dumped old lover of someone at the very top of society, who holds the secret to unravelling the puzzle.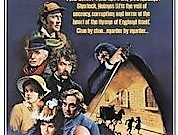 The acting, direction, camerawork (by cinematographer Reginald H Morris) and art direction (by Harry Pottle) are all first rate in Bob Clark's atmospheric and entertaining fantasy ingeniously spun off around Sir Arthur Conan Doyle's characters.
Although it is well trodden ground – even back in 1978 – and the plot is a tricky-to-follow tangled web in the intelligent screenplay by John Hopkins, this is an outstanding version of the tale, packed with Victorian East End London atmosphere, suspense and realism.
Bujold, Donald Sutherland (as Robert Lees, the psychic called in by Scotland Yard), Frank Finlay (as Inspector Lestrade), Anthony Quayle (as Sir Charles Warren), David Hemmings (as Inspector Foxborough), Susan Clark (as Mary Kelly) and John Gielgud (as British Prime Minister Lord Salisbury) all help to give it real class.
Also in the cast are Ron Pember, Roy Lansford, Peter Fonfield, Teddi [Tedde] Moore, Catherine Kessler, Chris Wiggins, Peter Jonfield and Ken Jones.
It was loosely remade as From Hell in 2001.
Finlay also played Inspector Lestrade in A Study in Terror (1965).
© Derek Winnert 2017 Classic Movie Review 4915
Check out more reviews on http://derekwinnert.com