Moulin Rouge **** (1952, José Ferrer, Zsa Zsa Gabor, Colette Marchand) – Classic Movie Review 2084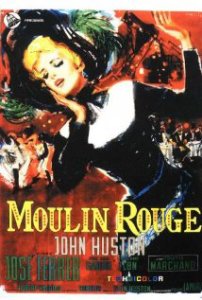 Director John Huston's vibrant, beautiful-looking, double Oscar-winning 1952 biopic focuses on the garish colours, wild times and wayward characters captured so vividly in Henri de Toulouse-Lautrec's paintings and poster art of late 19th-century Montmartre in Paris. It's remarkable for cinematographer Oswald Morris's highly imaginative use of filters to create a style reminiscent of Toulouse-Lautrec's paintings. And the costumes and character makeup also pay homage to his poster art.
José Ferrer provides a most engagingly larger-than-life characterisation, performing a small miracle as the diminutive post-impressionist artist Henri de Toulouse-Lautrec, his legs badly deformed by a childhood fall. But Ferrer is slightly swamped by the eye-catching elaborate framing and the Technicolor tinting that Huston and Morris use to evoke the artist's work.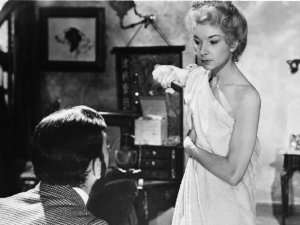 John Huston and Anthony Veiller's screenplay, based on the novel by Pierre La Mure presents the slightly fictionalised life and times of Toulouse-Lautrec. In the story, Henri is going home one night when he meets Marie Charlet (Colette Marchand), a lovely and spirited young woman of the Paris streets, who asks him for help. Henri falls in love with her and they start a tempestuous relationship.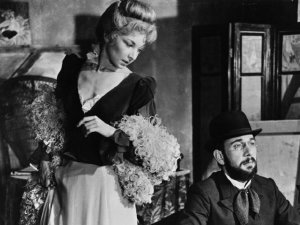 Moulin Rouge emerged as the winner of deserved Oscars for Best Art Direction-Set Decoration and Best Costume Design, but it lost out as Best Picture film, exactly the same as Baz Luhrmann's 2001 film of the same title. Director Huston, actor Ferrer, supporting actress Colette Marchand (as Marie Charlet) and editor Ralph Kemplen were also nominated. Marchand won the 1953 Golden Globe as Most Promising Newcomer – Female. Though she is famed as one of only 12 French actresses to have received an Academy Award nomination, she made only another couple of other movies.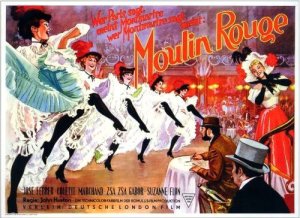 Bizarrely, Oswald Morris wasn't even nominated for his stunning cinematography. Morris died on March 17 2014, aged 98. He did win a Best Cinematography Oscar – for Fiddler on the Roof (1971). He won three Bafta BAFTA Film Awards, all for black and white movies, all in successive years – The Pumpkin Eater (1964), The Hill (1965) and The Spy Who Came in from the Cold (1965).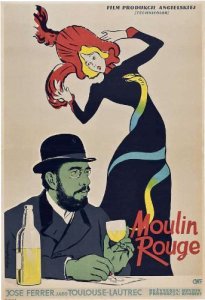 Future British horror stalwarts and friends Christopher Lee and Peter Cushing also co-star as Georges Seurat and Marcel de la Voisier. Also starring are Zsa Zsa Gabor as Jane Avril, Suzanne Flon as Myriamme Hayam, Katherine Kath as La Goulue, Claude Nollier as Countess Adèle de Toulouse-Lautrec, Muriel Smith as Aicha, Mary Clare as Marie Loubet and Walter Crisham as Valentin le Desossé.
Also in the cast are Michael Balfour as Dodo, Eric Pohlmann as Picard, Lee Montague, Jim Gérald, Georges Lannes, Harold Kasket, Maureen Swanson, Tutte Lemkow, Jill Bennett, Theodore Bikel, Charles Carson, Walter Cross, Diane Cilento, Ina De La Haye, Francis De Wolff, Hugh Dempster, Everley Gregg, Peter Haddon, Frederick Ledebur, Mons Ledebur, George Pastell and Donovan Winter.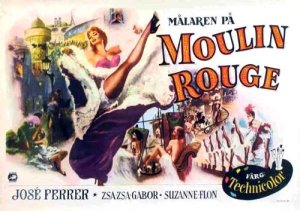 There were seven Oscar nominations, and the two wins for Best Art Direction-Set Decoration Colour (Paul Sheriff, Marcel Vertès) and Best Costume Design (Marcel Vertès).
aged 99. Moulin Rouge is probably her best movie.
© Derek Winnert 2015 Classic Movie Review 2084
Check out more reviews on http://derekwinnert.com/