Moscow Does Not Believe in Tears [Moskva slezam ne verit] **** (1980, Vera Alentova, Aleksey Batalov, Irina Muravyova, Raisa Ryazanova) – Classic Movie Review 5617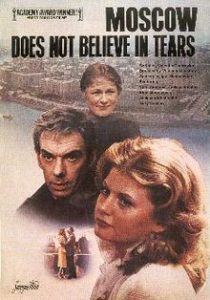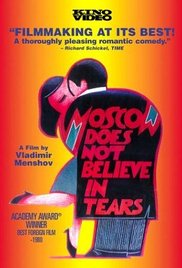 Russian actor Alexey Batalov, best known for starring in the 1958 Cannes Palme d'Or winning film The Cranes Are Flying and the 1981 Best Foreign Language Film Oscar-winning movie Moscow Does Not Believe in Tears, died in Moscow on 14 June 2017 at the age of 88.
In Moscow Does Not Believe in Tears [Moskva slezam ne verit], Batalov plays Georgi 'Gosha' in the life story from youth to autumn of three young women who come to Moscow from small towns. They are placed together in a workers' dormitory room and eventually become friends. Antonina (Raisa Ryazanova) is seeing Nikolai, a reserved, kind young man, Katerina (Vera Alentova) is a serious woman trying to get her chemistry degree while working at a factory and Lyudmila (Irina Muravyova) is a flirtatious go-getter.
Batalov's character, a tool-and-die maker nicknamed 'Gosha', flirts with Katerina one evening when she is returning home from Antonina's dacha in the countryside on an elektrichka train. She dismisses him because of his shabby boots, but he persists and soon they start seeing each other.
[Spoiler alert] There are problems along the way, of course, but finally she eventually says, 'I have been looking for you for so long'.
Made by Mosfilm, it is written by Valentin Chernykh, directed by Vladimir Menshov, and also stars Vera Alentova.
President Reagan watched the film several times before he met Soviet President Gorbachev to gain a better understanding of the 'Russian soul'.
© Derek Winnert 2017 Classic Movie Review 5617
Check out more reviews on http://derekwinnert.com