Morocco **** (1930, Marlene Dietrich, Gary Cooper, Adolphe Menjou) – Classic Movie Review 4262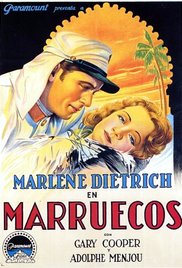 Director Josef Von Sternberg's first American movie with Marlene Dietrich in their renowned collaboration finds the Paramount studio's love goddess playing a cabaret singer called Mademoiselle Amy Jolly, who arrives in Morocco from Paris and falls in love with Legionnaire Tom Brown (Gary Cooper) who comes to see her act.
But their budding relationship is threatened when she cannot make up her mind between the soldier and the rich Monsieur La Bessiere (Adolphe Menjou).
Dietrich was Oscar nominated as Best Actress and oozes sensational allure in her American debut as the mystery heroine, while the two actors have to work unaccustomedly hard to attract any attention.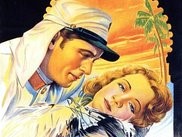 Adapting Benno Vigny's play Amy Jolly, screen writer Jules Furthman has a soppy story to tell, with a wild ending. But so what? It hardly matters at all with Dietrich shining so brightly. The Academy was as impressed as the public, so there were three other Oscar nominations for the contributions of Von Sternberg as Best Director, Lee Garmes for Best Cinematography and Hans Dreier for Best Art Direction. Indeed all these are outstanding contributions to an outstanding movie.
Also in the cast are Ullrich Haupt, Juliette Compton, Francis McDonald, Albert Conti, Eve Southern and Paul Porcasi.
Von Sternberg and Dietrich followed it with Dishonored (1931), which Cooper turned down after this experience of working with him, and then Shanghai Express (1932) with Clive Brook and Anna May Wong.
Cooper and Dietrich followed it with Desire (1936).
It is spoofed by Stan Laurel and Oliver Hardy in Beau Hunks.
© Derek Winnert 2016 Classic Movie Review 4262
Check out more reviews on http://derekwinnert