Morgan ** (2016, Kate Mara, Anya Taylor-Joy, Rose Leslie, Toby Jones, Boyd Holbrook, Paul Giamatti) – Movie Review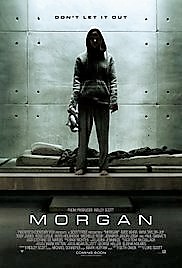 Kate Mara stars as corporate risk-management consultant Lee Weathers, who arrives at some dark old house in the country where Morgan (Anya Taylor-Joy), an artificially created humanoid being has just stabbed a doctor (Jennifer Jason Leigh) in the eye.
Lee must assess the situation and calculate the risk to decide whether to terminate Morgan, after late-arriving expert Dr Alan Shapiro (Paul Giamatti) has interviewed the humanoid next morning.
A whole bunch of other folks are on the scene -notably Dr Simon Ziegler (Toby Jones), Dr Amy Menser (Rose Leslie), Dr Lui Cheng (Michelle Yeoh), Dr Darren Finch (Chris Sullivan), Dr Brenda Finch (Vinette Robinson), Ted Brenner (Michael Yare) and cook Skip Vronsky (Boyd Holbrook) – most of them there just to get the chop, obviously. If I counted them it would probably be 10, as in Ten Little Indians, or And Then There Are None.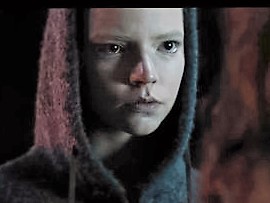 Morgan is reasonably slick, intense, fast moving and competent, but no more. It keeps you watching for its short 90 minutes running time. But it's the 99 pence burger of movies: it feels insubstantial and unsatisfying, and you wish you'd bought something else.
There is a final 'twist', of course. You've been sitting there expecting it from the start, and when it comes it's exactly the same 'twist' you expected. So, what I guess I'm also saying is, Morgan just isn't surprising. Or scary enough, though there are some tense moments and good sequences, the best of which is Giamatti's interrogation of Morgan behind plate glass,
It gets into Hannibal territory at this point, and you really think the movie is going to fire up and be a contender. But then it fires down and isn't. The climax is robust and intense, moving towards being exciting, but the lack of surprise does it in. So does the cast's weird lack of determination to take care of Morgan permanently.
Talent will out apparently. Giamatti's so good in his little bit, and Jones brings class too. Mara and Taylor-Joy (from The Witch) do everything that could possibly be expected of them. Mara is admirably tough and Taylor-Joy convincingly creepy. Brian Cox is wasted as boss figure Jim Bryce, though even so he has a better time than poor Jennifer Jason Leigh. Holbrook gets screen time but nothing interesting to do.
It is directed by Luke Scott, son of Ridley Scott, who produces it for his Scott Free company. It is written by Seth W Owen, known for Peepers (2010). Both men are on the right track but need to push harder.
© Derek Winnert 2016 Movie Review
Check out more reviews on http://derekwinnert