Moonlight and Valentino ** (1995, Elizabeth Perkins, Whoopi Goldberg, Gwyneth Paltrow, Kathleen Turner, Jon Bon Jovi) – Classic Movie Review 3906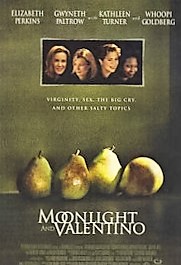 Elizabeth Perkins stars as a college poetry professor, whose husband is killed in a jogging accident, in this emotional romantic drama, based on a play by Ellen Simon. Perkins has a support system of friends to console and help her: Whoopi Goldberg is her friend Sylvie Morrow, Gwyneth Paltrow plays her sister Lucy Trager, and Kathleen Turner is her mother Alberta.
Good acting, as you'd expect from this cast, is the mainstay of director David Anspaugh big fat 1995 tearjerker that wrings the withers but doesn't always convince. It has a basis in reality but it is annoyingly manipulative in the screenplay by Ellen Simon, based on her own play .
Jon Bon Jovi is a hunky home painter-decorator, subject of the earnest approval of Alberta. Also in the cast are Erica Luttrell, Matthew Koller, Kelli Fox, Harrison Liu, Wayne Lam, Ken Wong, Jack Jessop, Josef Sommer, Jeremy Sisto, Shadia Simmons, Scott Wickware and Alan Clifton. Valentino is played by Trim.
© Derek Winnert 2016 Classic Movie Review 3906
Check out more reviews on: derekwinnert.com