Moonlight ***½ (2016, Trevante Rhodes, André Holland, Janelle Monáe, Ashton Sanders, Jharrel Jerome, Naomie Harris, Mahershala Ali) – Movie Review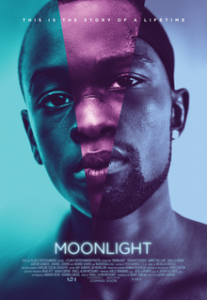 Writer-director Barry Jenkins's 2016 story of self-discovery spotlights three eras in the troubled early life of a young black-American man called Chiron from childhood via mid-teenager to young adulthood. It is based on the play In Moonlight Black Boys Look Blue by Tarell Alvin McCraney.
Unlike the film of the play Fences (2016), it is an actual movie, thank goodness, its stage source betrayed only slightly by its three scene structure. However the film amply achieves its goal of being both cinematic and personal.
Growing up in a rough neighborhood of Miami, the boy somehow survives a drug-taking, crack-addicted single mother Paula (Naomie Harris), appalling bullying at school and bewildered grappling with his sexuality. It turns out that Chiron is gay.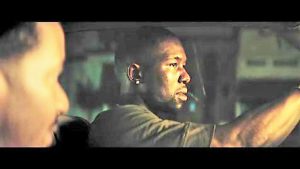 Luckily, Chiron has three people on his team, his same aged Cuban-American school friend Kevin, who provides friendship at a price, a surprisingly kindly neighbourhood drug dealer named Juan (Mahershala Ali) and Juan's caring girlfriend Teresa (Janelle Monáe), whose home proves a sanctuary for young Chiron.
Despite its upbeat, positive ending, the film manages to be thoroughly depressing, telling a familiar tale of oppression, neglect and abuse. Of course the point is the hero's survival and triumph over these things, but we have spent nearly two hours experiencing the horrors of growing up in a rough neighborhood of Miami, where it is filmed. The happy ending seems inevitable but it still comes as a kind of a surprise, as much to the viewer as to the hero. It hardly seems possible. It is sweet though.
Three different actors play Chiron in the three different time periods, a necessary thing of course, but it is disappointing each time. Just as you get to feel you really know one actor, he disappears. That's the drawback of the three-part formula.
Chiron's withdrawn, passive character makes him less easy to sympathise with than he should be, though he remains very real. And that's almost wholly due to the three fine performances of the actors who play him – Alex Hibbert (child Chiron dubbed 'Little'), Ashton Sanders (teenage Chiron) and Trevante Rhodes (adult Chiron), all of them quietly warm and appealing.
None the less, I would say that Mahershala Ali gives the film's most outstanding performance. You are never quite sure of the character, who he is, what he will do next, and that's exactly what Chiron must have found when he needed to trust him. Who to trust when you are a kid and your parents aren't there for you, that's one of the film's main themes. Chiron is desperate and therefore too trusting of course.
I know he wants to be 'cinematic', but Jenkins's attempts at adding a poetic dimension to the movie seem misguided. I don't want a shot of actual moonlight to be reminded of the title. Grittier handling would be better, in the manner of American Honey perhaps.
There is a notable soundtrack composed by Nicholas Britell, with 18 of his original songs.
Moonlight won the 2017 Golden Globe for Best Motion Picture – Drama. It won three Oscars, including Best Motion Picture, Best Supporting Actor (Mahershala Ali ) and Best Adapted Screenplay – Barry Jenkins (screenplay) and Tarell Alvin McCraney (story), with five other nominations.
© Derek Winnert 2017 Movie Review
Check out more reviews on http://derekwinnert.com