Monte Walsh **** (1970, Lee Marvin, Jack Palance, Jeanne Moreau, Mitchell Ryan, Jim Davis) – Classic Movie Review 4274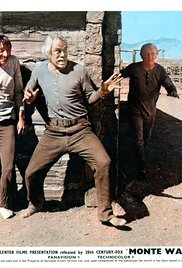 William A Fraker makes his directorial debut with this tremendously well filmed 1970 elegiac Western is blessed with two performances of high stature by Lee Marvin and Jack Palance as Monte Walsh and Chet Rollins, aging old-style men of the West finding that progress is leaving them behind.
As the jobs and lifestyles they once knew are replaced by fantasy Wild West shows and soul-destroying work Palance (cast against type) lays down his gun and takes to minding the store, while Marvin renews his faith in Western lore when he has to pack his pistols again to avenge a murder. Jeanne Moreau also stars as prostitute and saloon girl Martine Bernard, Monte's old flame.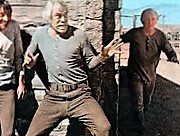 David Zelag Goodman and Lukas Heller's screenplay is taken so very freely from the 1963 novel by Jack Schaefer (Shane) that it invents a more or less new plot, but it does grand service in really capturing the feel of the West and the glory of a high time gone by. It is set in Harmony, Arizona.
Also in the cast are Mitchell Ryan, Jim Davis, John Hudkins, Raymond Guth, John McKee, Michael Conrad, Tom Heaton, G D Spradlin, Bo Hopkins, Matt Clark, Billy Green Bush, Allyn Ann McLerie, John MaLiam, Leroy Johnson, Eric Christmas, Charles Tyner, Richard Farnsworth and Roy Barcroft (in his final film).
Tom Selleck, Keith Carradine and Isabella Rossellini play the parts of Monte, Chet and Martine in a 2003 TV movie remake set in Wyoming and directed by Simon Wincer.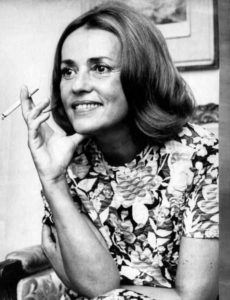 RIP Jeanne Moreau. Her most notable movies include: Touchez Pas au Grisbi (1954), Elevator to the Gallows (1958), The Lovers (1958), La Notte (1961), Jules and Jim (1962), The Bride Wore Black (1968), Luis Buñuel's Diary of a Chambermaid, Rainer Werner Fassbinder's Querelle, Orson Welles's The Trial, The Immortal Story and Chimes at Midnight, The Sailor from Gibraltar (1967), Mata Hari, Agent H21  (1964), Eva (1962), Monte Walsh  (1970), Bay of Angels [La baie des anges] (1963), Viva Maria! (1965), Moderato cantabile (1960) and The Old Lady Who Walked in the Sea in 1992.
© Derek Winnert 2016 Classic Movie Review 4274
Check out more reviews on http://derekwinnert