Monsters vs Aliens *** (2009, voices Reese Witherspoon, Seth Rogen, Hugh Laurie, Will Arnett, Paul Rudd, Kiefer Sutherland, Rainn Wilson, Stephen Colbert, Amy Poehler, Ed Helms) – Classic Movie Review 4344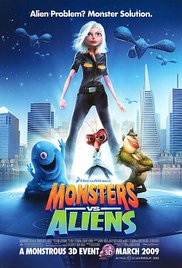 DreamWorks' 2009 animation is pretty well done and very jolly if not their finest – and it's certainly not in the Monsters, Inc. gallery of greatness. Pixar's pioneering 2001 work is still superior.
There are plenty of chuckles in the story of a middle-ageing California woman called Susan Murphy (voice of Reese Witherspoon) who is hit by a meteorite on her wedding day, mutated into a giantess as Ginormica and taken to General Monger (Kiefer Sutherland)'s secret government facility. There she meets her new pals – mad scientist Dr Cockroach (Hugh Laurie), brainless, jelly-like blob B.O.B. (Seth Rogen) and the lizard man Missing Link (Will Arnett).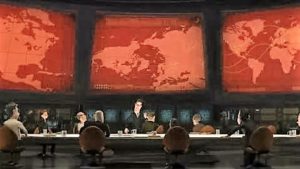 Maya Forbes and Wallace Wolodarsky's amusing – rather than wittily funny – screenplay gleefully rips off Attack of the 50 Foot Woman, Creature from the Black Lagoon, Independence Day and Godzilla to nice satirical effect. But it is a big drawback that the characters are not very well developed or very interesting. And is it sexist to say a young boy hero would have been more fun than a middle-ageing woman as the main character?
On the plus side, the 3D is flawlessly good indeed – it amounts to a big add-on. Small kids will probably enjoy Monsters vs Aliens more than their adults, despite the retro old movie appeal.
© Derek Winnert 2016 Classic Movie Review 4344
Check out more reviews on http://derekwinnert.com