Monster **** (2003, Charlize Theron, Christina Ricci, Bruce Dern, Pruitt Taylor Vince) – Classic Movie Review 150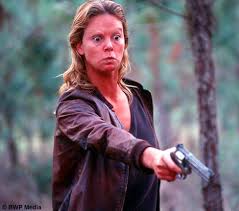 An unrecognisable Charlize Theron is an amazing revelation in her 2004 Best Actress Oscar-winning role as blowsy, lowlife Daytona Beach hooker Aileen Wuornos, who went on a killing spree in late-80s Florida, bumping off seven of her clients. This intelligent, provocative and frightening movie works both as a knife-edge thriller and as a complex discussion of sexual-politics, violence, the nature of relationships and male-female roles.
Theron grabs her chance to show she's not just one of the most beautiful women in the world, but also a great actress. Even so, she defies all expectations by getting right under the skin and into the body of her character, whom she seems to become rather than impersonate. This performance is one of that rare breed that gives the impression of transcending acting altogether.
Somehow, Theron succeeds in getting in touch with the human being behind the serial-killer monster. But, in a way, that makes Wuornos, a very rare example of a female serial killer, more scary rather than less.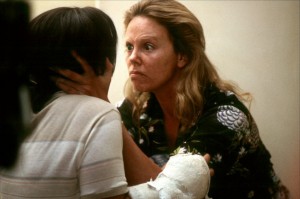 Christina Ricci is also outstanding as Aileen's sad soul sister Selby, with whom she had a lesbian relationship between 1989 and 1990. This was when she started killing for men money instead of having sex with them. She reverses the usual story of highway prostitutes being the victims of serial killers by murderously preying on her trucker clients.
Writer-director Patty Jenkins's film is extremely unsettling and very strong material, and needs to be approached with caution. Her screenplay gives out complicated messages, getting deep into the character of the killer and trying to understand her without approving of her actions. It paints her as a tragic figure rather than the monster of the title, while showing the events in gruesome, harrowing detail.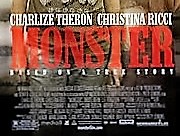 It says she never had a chance. We find that she was abused as a child in Michigan and became a prostitute and pregnant at 13, before moving to Florida and becoming a highway prostitute.
Bruce Dern (as Thomas) and Pruitt Taylor Vince (the stuttering client) have a little space to make an impression in support in the movie.
On a $5million budget, it grossed $32million in the US alone.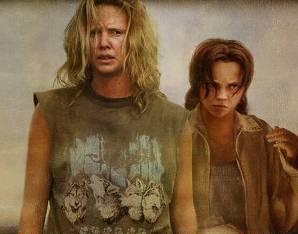 In real life, Theron's father attacked her mother, who shot him dead in self-defence and was not charged. Theron: 'I'm fifty-fifty on glamour stuff. I'd rather put on a pair of jeans, get on a Harley and act like a guy.'
To 2016 there have been no other movies from American Film Institute graduate Jenkins but in 2016 she is filming Wonder Woman. She corresponded with the convicted killer Wournos in jail, who left her all her personal letters and papers before she was executed in Florida.
Wonder Woman was released on 2 June 2017 in the USA.
© Derek Winnert 2013 Classic Film Review 150 derekwinnert.com