Mojave ***½ (2015, Garrett Hedlund, Oscar Isaac, Mark Wahlberg) – Movie Review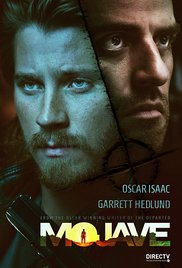 'This started in the desert and it's gonna end there. You understand? This has to play out.'
Garrett Hedlund stars in this intriguing 2015 film noir-style psycho thriller oddity as depressed film-maker Thomas, who goes into the Mojave Desert to find inspiration and meaning to life. But there his vehicle turns over and he finds himself confronted by a homicidal drifter called Jack (Oscar Isaac), who proceeds to stalk him relentlessly. Their lethal game of cat and mouse doesn't end even when they manage to leave the desert…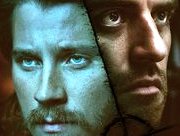 Producer-writer-director William Monahan, best known as the Oscar-winning writer of The Departed (2006), manages lots of both tension and excitement, as well plenty of twisted weirdness. It's all thoroughly engrossing and involving in its strange way, not letting up at all, and doesn't outstay its welcome at 93 minutes. Biting off just exactly what they can chew, the quirkily appealing Hedlund and Isaac go at it all with a will, with conviction and with a lot of talent.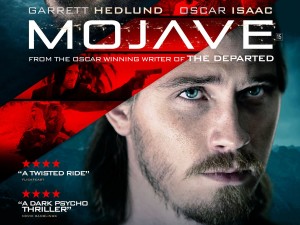 Mark Wahlberg appears in a helpful, highly amusing cameo as Thomas's sex-crazed buddy Norman (!), in his first supporting role since Date Night (2010). It helps the film that Wahlberg is effortlessly funny, producing a change of pace break in the cat and mouse game. Also in the cast are Walton Goggins as Jim, Dania Ramirez as Detective Beaumont, Louise Bourgoin as Milly and Matt Jones as Louis, but the movie is all about Isaac and Hedlund.
Wahlberg stars in The Gambler (2014), written by Monahan. Wahlberg and Hedlund worked together on Four Brothers (2005). Isaac and Hedlund appeared together in Inside Llewyn Davis (2013). Are we seeing a pattern here?
Monahan is also known as the screen-writer of Kingdom of Heaven (2005), Body of Lies (2008), Edge of Darkness (2010), London Boulevard (2010) and The Gambler (2014). London Boulevard is his only other previous film as director.
The movie bears a considerable thematic similarity to 2014's Beyond the Reach, where Michael Douglas's psycho stalks Jeremy Irvine in the Mojave Desert.
Catch the trailer:
Mojave is at Cinemas and On Demand from 25 March 2016 (Signature Entertainment).
© Derek Winnert 2016 Movie Review
Link to home page for more reviews derekwinnert.com