Mission: Impossible – Rogue Nation ***** (2015, Tom Cruise, Jeremy Renner, Simon Pegg, Rebecca Ferguson, Ving Rhames, Sean Harris, Alec Baldwin, Simon McBurney, Tom Hollander) – Movie Review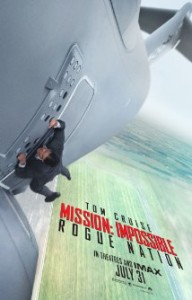 Cruise is back in control thanks to McQuarrie. It's the best yet.
M:I 5, or M:I – RN, is a super surprise – it's incredibly slick, smart and stylish, with writer-director Christopher McQuarrie revivifying the formula big time. It's a Bond film, without 007. It's four years since Mission: Impossible – Ghost Protocol (2011) successfully revived the format and this one tops even that.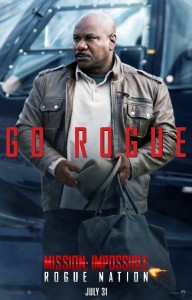 Jeremy Renner, Simon Pegg and Ving Rhames return as Brandt, Benji and Luther Stickell, and are given plenty of space to do that thing they do, which they do well, putting skill and energy into it. But of course it's Tom Cruise's show as the desperately dynamic Ethan, as he and his little team take on a new mission: impossible, eradicating the Syndicate – a mysterious, antagonistic, international rogue organization bent on destroying the IMF, led by a mystery man super-villain.
By the way, Cruise and Rhames are the only ones in all five M:I movies.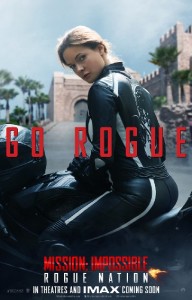 They've taken a lot of trouble to get the casting right, with offbeat choices paying off. Swedish star Rebecca Ferguson is sensational as the English spy Ilsa, who may or may not be on Ethan's side, though she's certainly on her own. Last seen as Ergenia in Hercules (2014), she's as great in the dialogue scenes as in the action.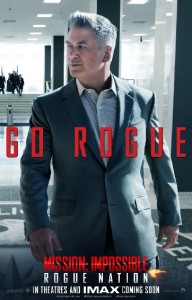 Alec Baldwin is a huge asset too as the CIA boss intent on closing the pesky IMF down for ever. Sean Harris, last seen in The Goob (2014), makes a highly unusual and chillingly effective villain. Simon McBurney is ideal as the creepy British spy boss, while Tom Hollander is most amusing as the British Prime Minister. Don't ask!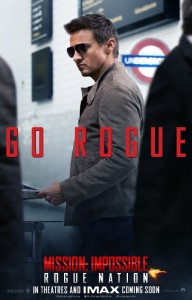 They've taken a lot of trouble to get the action and stunts right – and they are nothing short of breath-taking. Cruise performed the sequence where Ethan Hunt climbs on the outside of a flying airplane (an Airbus A400M) without the use of special effects or a stunt double. At times he was suspended on the aircraft 5000 feet (1.5 kilometers) in the air.
To keep Cruise's eyes open in the presence of hard air and runaway particles, his eye specialist designed a special lens that can cover the entire eyeball. Eight takes of the stunt were filmed. Fancy doing that eight times! No thank you!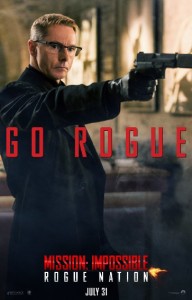 Cruise and Pegg performed all their own amazing driving stunts too. No wonder Cruise was injured six times during the making of the movie! Cruise sure is in amazing shape for a man in his fifties!!
They've taken a lot of trouble to get the globe-trotting locations right, with London, Vienna and Morocco the main backdrops, all imaginatively used. The Vienna Opera House sequence is a perfect version of mounting tension, Hitchcock style, delivered with huge flair at a performance of Puccini's opera Turandot. Morocco is the backdrop for a thrilling bike and car chase. London is really well used, and for many quirkily entertaining sequences. Boris Johnson will be thrilled.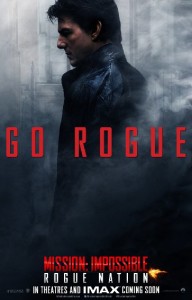 McQuarrie, the Oscar winner for Best Original Screenplay for the brilliant The Usual Suspects (1995), made Jack Reacher with Cruise in 2012. They've taken a lot of trouble to get the story and screenplay right (shared story credit with Drew Pearce). The story picks up directly from Ghost Protocol, which ends with Ethan prepping his team to investigate the Syndicate, the regular antagonist in Bruce Geller's original Mission: Impossible (1966) TV series.
I've always said that Lalo Schifrin's Mission: Impossible theme is the classiest thing about the Mission: Impossible movies. It's brilliantly, and much, used in M:I 5. But I'm now certain that it's not the only classy thing around here. M:I 5 inevitably sets up its sequel at the end. Can they please actually call it M:I 6?
In September 2016 it was announced that Cruise has finally closed a deal to make Mission: Impossible 6.
http://derekwinnert.com/mission-impossible-1996-tom-cruise-jean-reno-classic-movie-review-1289/
http://derekwinnert.com/mission-impossible-ii-tom-cruise-dougray-scott-thandie-newton-classic-movie-review-1290/
© Derek Winnert 2015 Movie Review
Check out more reviews on http://derekwinnert.com