Mishima: A Life in Four Chapters **** (1985, Ken Ogata, Masayuki Shionoya, Junkichi Orimoto, Naoko Otani, Go Riju) – Classic Movie Review 4134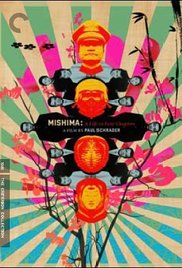 Co-writer/ director Paul Schrader's 1985 movie about the prolific and controversial Japanese novelist, writer and militarist Yukio Mishima is a startling and accomplished American art film.
Japan's greatest author Mishima turned his art into action by staging a demonstration at an army barracks in 1970. After he failed to incite the soldiers to return to their old traditions, he shocked the world when he committed public hara kiri at the age of 45.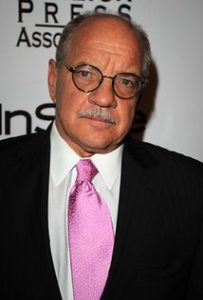 Schrader's bold and uncompromising film explores Mishima's art, life and death by ritual suicide on November 25 1970, though thankfully we are spared the gory details, so it is a violent but visually bloodless movie. It is a fictionalised account of Mishima's life in four segments, three of the chapters interweaving episodes from his life story with dramatised events of segments from his novels (The Temple of the Golden Pavilion (Kinkaku-ji), Kyoko's House, and Runaway Horses), while the fourth details The Last Day of Mishima.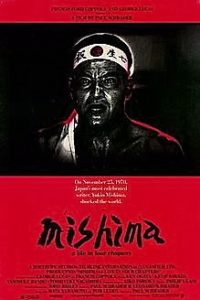 Mishima is a glorious experience in sound and vision thanks to Philip Glass's unforgettable score and cinematographer Donald Bailey's beautifully shot pictures – black and white for scenes from Mishima's life, colour for re-creations of his work. And there is plenty in Paul and Leonard Schrader's screenplay to engage the mind too. Ken Ogata is just right as Mishima. It was co-financed by producers George Lucas and Francis Coppola (Zoetrope) and Warner Bros.
Narrated by Roy Scheider, the film is in English, and Japanese with English subtitles.
Also in the cast are Masayuki Shionoya, Junkichi Orimoto, Naoko Otani, Go Riju, Kanji Sawada, Hiroshi Mikami and Yasosuke Bando.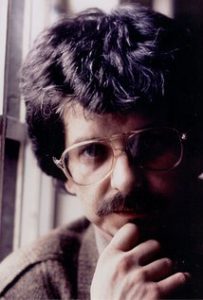 Leonard Schrader (1943–2006).
© Derek Winnert 2016 Classic Movie Review 4134
Check out more reviews on http://derekwinnert