Minions *** (2015, voices of Sandra Bullock, Jon Hamm, Jennifer Saunders, Michael Keaton, Allison Janney, Geoffrey Rush) – Movie Review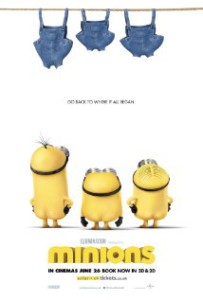 Kyle Balda and Pierre Coffin's Despicable Me (2010) spinoff is an animated tale of three Minions – Stuart, Kevin and Bob – who venture out into the world to find a new evil boss to follow and serve.
That would be Scarlet Overkill (voice of Sandra Bullock), apparently the world's first-ever female super-villain, who, alongside her inventor husband Herb (Jon Hamm), hatches a plot to take over the planet.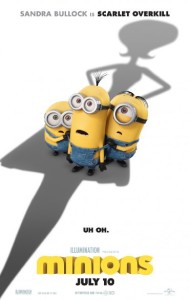 Somehow that leads the three minionteers to the mod London of 1968, where they must saving all of Minionkind from annihilation by stopping Overkill overthrowing The Queen (Jennifer Saunders). 'This is Queen Elizabeth! And I really, really, really want her crown!'
The images are bright, the mood lively and the characters lovable, but plot and situations are less than thrilling. Why have we landed up in 1968? Why are we spoofing the British monarchy. It seems a bit lame and weary.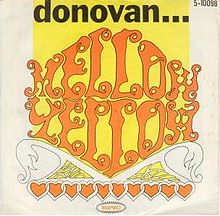 That does give the film-makers the chance to feature a classic soundtrack of 50-year-old hit music from the period. Though that seems a bit lame and weary, too, especially with the random nature of the choices, apart from Donovan's Mellow Yellow and its reference to electrical bananas at the end, a reference to the Minionkind penchant for bananas (well, they're yellow too, and look like Minions, very narcissistic!).
The gibberish-speaking yellow blobs are really odd, and so is the bizarrist humour. That's probably a good thing. Young kids will adore them, no doubt. Adults are more likely to be mystified.
Can someone explain the Minions to me please? No, I didn't think so!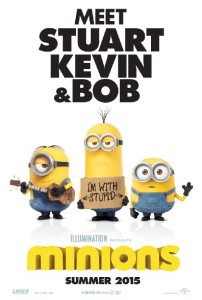 The best part of the movie by far is the start, with Geoffrey Rush narrating the Minions' history from the dawn of time. Beginning as single-celled yellow organisms, Minions evolve through the ages, serving the most despicable of masters like T Rex, Genghis Khan, Napoleon and Dracula. Unable to keep any of them alive, they find themselves without anyone to serve and have fallen into a deep depression. This is all clever, funny stuff.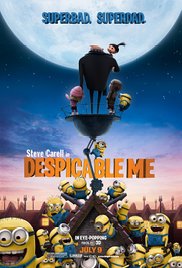 Apropos the gibberish-speaking, the minions have no proper dialogue (which must have helped the screen-writer Brian Lynch no end) and are heard, for example, saying thank you in different languages: 'Terima kasih' (which is thank you in Malay and Bahasa Indonesian) and 'gracias' (which of course is thank you in Spanish).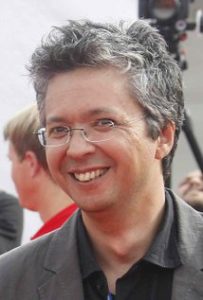 Co-director Pierre Coffin characterfully voices the Minions, helping them to remain cute even despite never having managed to pick up a proper language, while Michael Keaton and Allison Janney vocally liven up the roles of an eccentric bank robbing couple, Walter and Madge Nelson. If we're talking spinoffs, I think they deserve their own movie, and Geoffrey Rush can narrate it.
It was an even bigger box office sensation than Despicable Me (2010), taking $336 million in the US alone.
© Derek Winnert 2015 Movie Review
Check out more reviews on http://derekwinnert.com