Milk ***** (2008, Sean Penn, Josh Brolin, Emile Hirsch, James Franco) – Classic Movie Review 538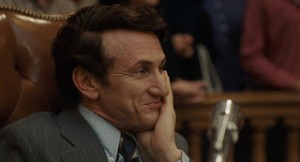 'All men are created equal. No matter how hard you try, you can never erase those words. That is what America is.' – Harvey Milk.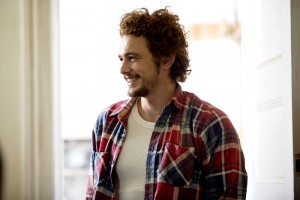 Virtually unrecognisable and immersing himself totally in a character far from his own, Sean Penn is brilliant in his Oscar-winning role as as San Francisco's heroic better-life campaigner Harvey Milk, America's first openly gay elected official.
This brave, important and inspiring double-Oscar-winning 2008 biopic is lovingly crafted by Good Will Hunting director Gus Van Sant.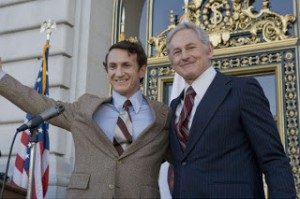 If Penn makes Milk seem chilly in his single-minded pursuit of justice for gays in the surprisingly prejudiced California of the Seventies, James Franco adds warmth and charm as his lover and helper Scott Smith. Their touching love story is poignantly told too.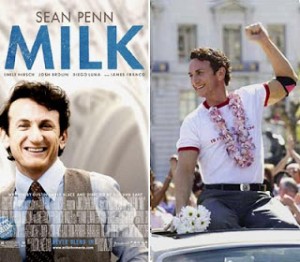 Josh Brolin has a great time as the murderously mixed-up, right-wing villain of the piece, Dan White, the notorious, messed-up San Francisco Supervisor who assassinated Milk in 1978 just when he was starting to achieve fairness and equality in California despite all the best efforts of the local bigots and religious extremists.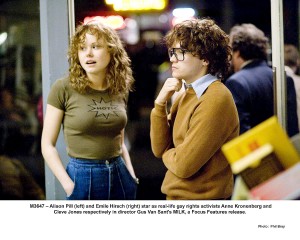 Alison Pill and Emile Hirsch also give useful support as the real-life gay rights activists Anne Kronenberg and Cleve Jones, who loyally support Milk. And Victor Garber is San Francisco Mayor Moscone.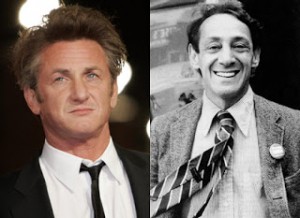 Poignantly, the story of what turned out to be the last eight years of Milk's life is told in the movie by the man himself, dictating into a tape recorder.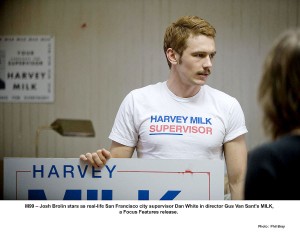 After eight Oscar nominations, including Best Film, Actor and Director, it won two Oscars, for Penn as Best Actor and the Best Original Screenplay for screenwriter Dustin Lance Black.
It was the American Film Institute's Film of the Year. The AFI wisely says: 'Milk is here to recruit you – and all audiences who yearn for stories of hope and inspiration. Van Sant and Black have crafted a story that soars above the biopic genre by illuminating the thrill of activism and extolling Milk's legacy through his simple message – "You gotta give 'em hope."'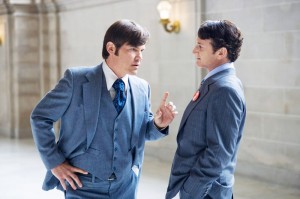 The story is also told in the 1984 Oscar-winning Best Documentary The Times of Harvey Milk. Penn won his first Best Actor Oscar for Mystic River (2003).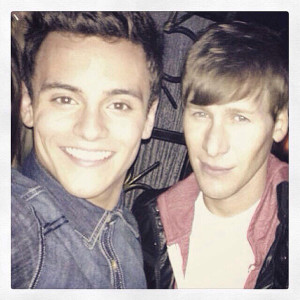 Dustin Lance Black celebrated his second anniversary with boyfriend Olympic diver Tom Daley in March 2015. Daley said: 'I'd never felt the feeling of love, it happened so quickly, I was completely overwhelmed by it to the point I can't get him out of my head all the time. I've never had it before where I love someone and they love me just as much.'
http://derekwinnert.com/mysterious-skin-classic-film-review-160/
http://derekwinnert.com/any-day-now-film-review/
http://derekwinnert.com/good-will-hunting-classic-film-review-156/
© Derek Winnert 2013 Classic Movie Review 538
Check out more reviews on http://derekwinnert.com/