Mike and Dave Need Wedding Dates ** (2016, Zac Efron, Adam Devine, Anna Kendrick, Aubrey Plaza, Stephen Root, Stephanie Faracy, Alice Wetterlund, Sugar Lyn Beard, Sam Richardson) – Movie Review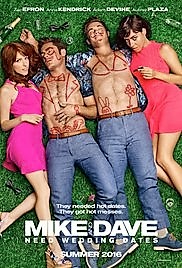 Partying twenty-something airhead brothers Mike and Dave Stangle (Adam Devine, Zac Efron) are ordered by their exasperated parents (Stephen Root, Stephanie Faracy) to find nice girl dates to attend their sister Jeanie (Sugar Lyn Beard)'s wedding.
They put an ad on line, answered by a couple of semi-hooker waitresses Alice and Tatiana (Anna Kendrick, Aubrey Plaza) who fancy a free vacation to Hawaii, pretending to be the nice girls the boys need. Though Dave would prefer Tatiana to be the easy-virtue gal she really is, while Dave sees the essential goodness in Alice.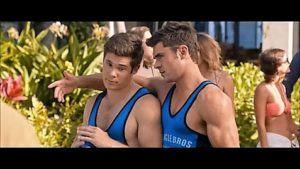 As the family assembles in Hawaii for the wedding, Cousin Terry (Alice Wetterlund) turns out to be one of those stereotype lesbians who hit on women, leading to an unspeakable incident in the shower, while Alice arranges for the bride-to-be to have a liberating 'special' massage, at the hands (and other body parts) of an Asian therapist in another unspeakable incident. Do you see where we are going with this? With lesbians and Asians well and truly offended, and gay men too when a man dresses in drag to try to be Dave's wedding date.
That leaves African Americans, who are taken care of, indeed taken more care of, with Sam Richardson's pleasantly low key and dignified portrait of the groom, Eric, though it is pretty well established he may be nice but he is boring. The movie, of course, isn't really on the side of nice, at least till the sentimental final reel, when it is established that everyone in the film is nice after all.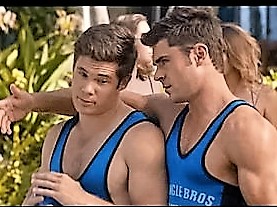 Not to break a butterfly upon a wheel, Mike and Dave is the reasonably likeable and has its funny moments among many drossy ones. Some of it seems desperate, and therefore not funny. The same with the performances some of the time. The gross-out stuff mentioned above is squirmingly awful. I get why they want to do it, There's Something About Mary, American Pie and all that. A couple of memorable gross-out bits and your film is memorable. It's like a thrilling action sequence in an action movie. But, really they shouldn't. There's a more charming, sweeter, better, much funnier movie somewhere here.
The four stars are often stranded without really funny lines or situations, leading to appalling mugging, especially by Devine and Plaza who are the comedy partners in each of the duos. Efron is not a comic, and tries to get by in being funny by smirking and squinting, and showing off his body and dance skills. So he's upstaged by Devine. [The two brothers have a bit of an actual bromance going on (Devine gets to kiss Efron, so that's nice), and so do the two women, though that's fine, they're not siblings!
Ditto Kendrick – she's also not a comic, and tries to get by in being funny by pulling funny faces and relishing quirky delivery of her lines. So she's upstaged by Plaza. the script does make a lot of effort to explore the two sets of characters and their relationships, and this helps the movie a lot. Everyone else is sidelined or paper thin, which is a shame because parents Root and Faracy are up for laughs if they had some witty lines. Typically of course the story dumps the lesbian character as soon as her laugh usefulness is over.
If the script, and Devine and Plaza were funnier, this might have been a laugh riot. As it is, with brain in neutral, Mike and Dave is easy to be to amused by and it's hard to hate. But, once again, memo to Zac Efron's agent: your proper actor star needs classier material. 
© Derek Winnert 2016 Movie Review
Check out more reviews on http://derekwinnert