Midnight Special ***½ (2016, Michael Shannon, Joel Edgerton, Kirsten Dunst, Adam Driver, Jaeden Lieberher, Sam Shepard) – Movie Review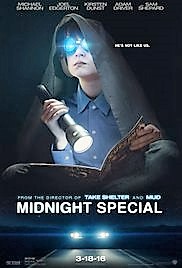 Writer-director Jeff Nichols boldly goes at having a crack at something a bit different in this dark and brooding 2016 sci-fi chase thriller. It's an oddball story in which a father Roy and his eight-year-old son Alton Meyer go on the run from the FBI, led a couple of violent goons and by the thoughtful and intelligent nerdy agent Sevier (Adam Driver), when it's discovered the kid has special powers. As the adline says, he's not like us! Soon, the entire US National security is in hot pursuit in helicopters.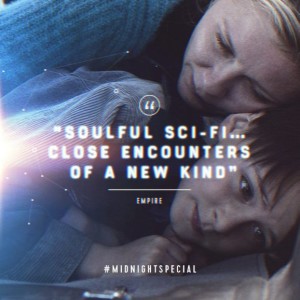 Michael Shannon, who has also starred in all of Nichols's movies – Shotgun Stories (2007), Take Shelter (2011) and Mud (2012) – gives his usual impressively grim and intense performance as the father, Jaeden Lieberher plays the kid, Joel Edgerton is Shannon's abducting partner-in-crime Lucas, Kirsten Dunst is their fellow traveller, the mother Sarah, and Sam Shepard is the cult leader preacher Calvin Meyer. Old Calvin is apparently bent on using the boy for some apocalyptical evil! These are all astonishingly intense and powerful performances. So much so, in Shepard's case, that it's actually annoying when he leaves the movie.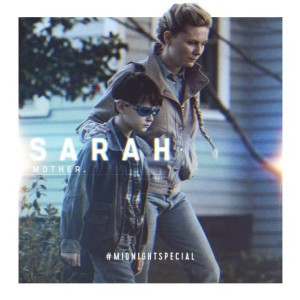 Midnight Special is powerfully and imaginatively staged by Nichols, who keeps the audience on it toes throughout with visceral and unsettling moments, and great seedy downhome American atmosphere. You're never really sure where you are in the movie, what kind of film you're watching, or finally where it's taking you to. The visual effects, when they finally come, are impressively old-style. It's not about the CGI! It's not about the big budget! If there is an impression of an homage to Close Encounters mingled with old-style film noir, that can't be bad, can it?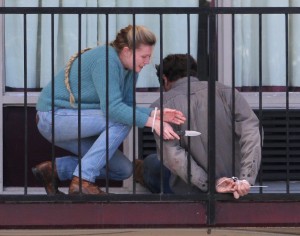 Personally, I'd have preferred a Close Encounters movie or a neo film noir. I kept thinking what a brilliant film noir this would make. But that's just me, I'm not that keen on mixing genres. Nevertheless, if that's what you want to do, this is how to do it. It's resulted in a pretty much unique movie, and one that will have film buffs' tongues waggling for weeks. It certainly works as a gripping thriller, and its intelligent screenplay has issues on its mind of faith and fatherhood, but what it's actually about, I've no idea, and that's up to you.
Midnight Special is certainly special, though a different title would be good. Are film-makers finally running out of catchy titles? That's how is seems.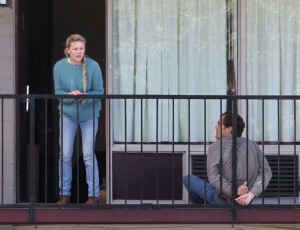 Midnight Special is a traditional folk song that apparently originated among prisoners in the American South. It refers to the passenger train Midnight Special and its 'ever-loving light'. I don't know if that's helpful in terms of the movie, but I guess it must be. Talking music, though, David Wingo's soundtrack is indeed electrifying.
In the end, I preferred Mud, but this is a good movie too.
© Derek Winnert 2016 Movie Review
Link to Derek Winnert's home page for more reviews: http://derekwinnert.com/