Midnight Cowboy ***** (1969, Dustin Hoffman, Jon Voight, Sylvia Miles) – Classic Movie Review 204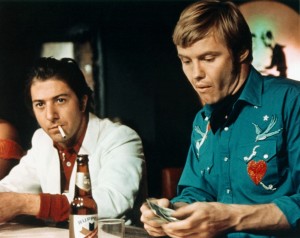 This controversial 1969 masterpiece is a key film of the troubled late-60s and precious icon of its time. Its impossibly young-looking stars Jon Voight and Dustin Hoffman scintillate in performances that remain among the best they've ever done in their extremely long careers.
On-fire English director John Schlesinger serves up a classic slice of underclass Americana, showing the tawdry flipside of the love-and-peace 60s counter-culture, in an electrifying, bracing study of a straight, young, naive Texan hustler (Voight) trying to survive in the seedy side of New York. He's come there to get rich as a gigolo to rich society women. Instead, he gets mixed up with one of Times Square's seediest losers (Hoffman).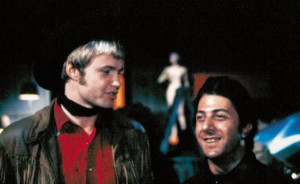 Visually the film is perhaps a shade too eye-catching in its effort to dazzle. And it also slightly shows its age in the over-earnest tone and in some displays of heart-on-sleeve sentiment. Technically, it's marred a little by some sloppy editing work.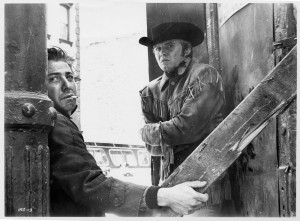 But there's absolute brilliance in the thrilling star-making turns of Voight and Hoffman as Joe Buck and Ratso Rizzo, the mis-matched drifters trapped in the urban hell of midtown Manhattan, struggling just to survive and eventually plotting to make their escape to sunny Florida. Brenda Vaccaro, John McGiver, Jennifer Salt, Bob Balaban, Barnard Hughes and especially Warhol star Sylvia Miles are memorable in the cast.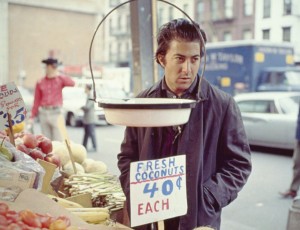 Their performances, plus Waldo Salt's great penetrating writing in his Oscar-winning screenplay that runs the whole gamut from funny to scary to tragic, keep this brilliant film always exciting and challenging. Salt based his script on an extremely fine 1965 novel by James Leo Herlihy, the author of the novel All Fall Down (filmed in 1962). 'Always be yourself,' he said. 'No one can tell you you're doing it wrong.' After this, he went on to teach playwriting at New York's City College.
At the time of his death in July 2003, it was hailed as Schlesinger's best movie, the only X-rated film ever to win best picture Oscar. So, it was his first and finest American film that won him the best director Oscar.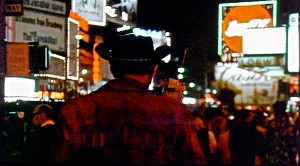 Musically it's a glorious time capsule. John Barry's famous score is superb and Harry Nilsson's song Everybody's Talking at Me (by Fred Neil) is still a much-played knockout.
It's astonishing that the story of a male prostitute hit the jackpot at the box office, but it wasn't universally popular. And, unsurprisingly, American conservative and religious groups fervent attacked it and especially its sympathetic treatment of a male prostitute and graphic depiction of his life.
http://derekwinnert.com/tootsie-classic-film-review-203/
© Derek Winnert 2013 Classic Movie Review 204
Check out more reviews on http://derekwinnert.com/