Midnight ***** (1939, Claudette Colbert, Don Ameche, John Barrymore, Francis Lederer, Mary Astor) – Classic Movie Review 5178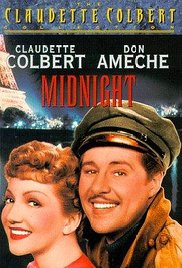 Director Mitchell Leisen's delicious 1939 movie bon-bon is the very essence of sophisticated wit and polish. The first-rate cast sparkles as much as production designer Hans Dreier's luminous sets of Paris. It may be the delightful star Claudette Colbert's film, but Don Ameche, John Barrymore, Francis Lederer and Mary Astor come a close second in delivery of smoothly purring, attractive performances.
In Paris, millionaire Georges Flammarion (Barrymore) hires broke American show chorus woman Eve Peabody (Colbert) to charm gigolo Jacques Picot (Lederer) away from his wife Helene (Astor). Meanwhile, taxi driver Tibor Czerny (Ameche) falls for Colbert's Eve and pretends to be her husband.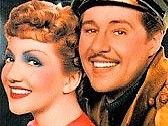 Billy Wilder and Charles Brackett make a lovely, smooth, polished job of the screenplay, adapting the story by Edwin Justus Meyer and Franz Schulz.
An all-time great, vintage Hollywood romantic comedy, this was remade by Leisen as Masquerade in Mexico in 1945.
Also in the cast are Hedda Hopper, Elaine Barrie, Rex O'Malley, Monty Woolley, Armand Kaliz, Eugene Borden, Paul Bryar, Eddie Conrad, Gennaro Curci, Billy Daniel, Leander De Cordova, Joe De Stefani, Carlos De Valdez, William Eddritt, Bess Flowers, Arno Frey, Judith King, Joyce Matthews, Louis Mercier, Ferdinand Munier, Nestor Paiva, Lionel Pape, Donald Reed, Joseph Romantini, Harry Semels, Leonard Sues, Michael Visaroff and Bryant Washburn.
The same team re-assembled for Arise, My Love (1940). Wilder and Brackett fought with Leisen to get their words on screen, but that did not stop the three working together on Arise, My Love, where they fought all over again. Wilder and Brackett then decided they needed to produce and direct their scripts.
© Derek Winnert 2017 Classic Movie Review 5178
Check out more reviews on http://derekwinnert.com